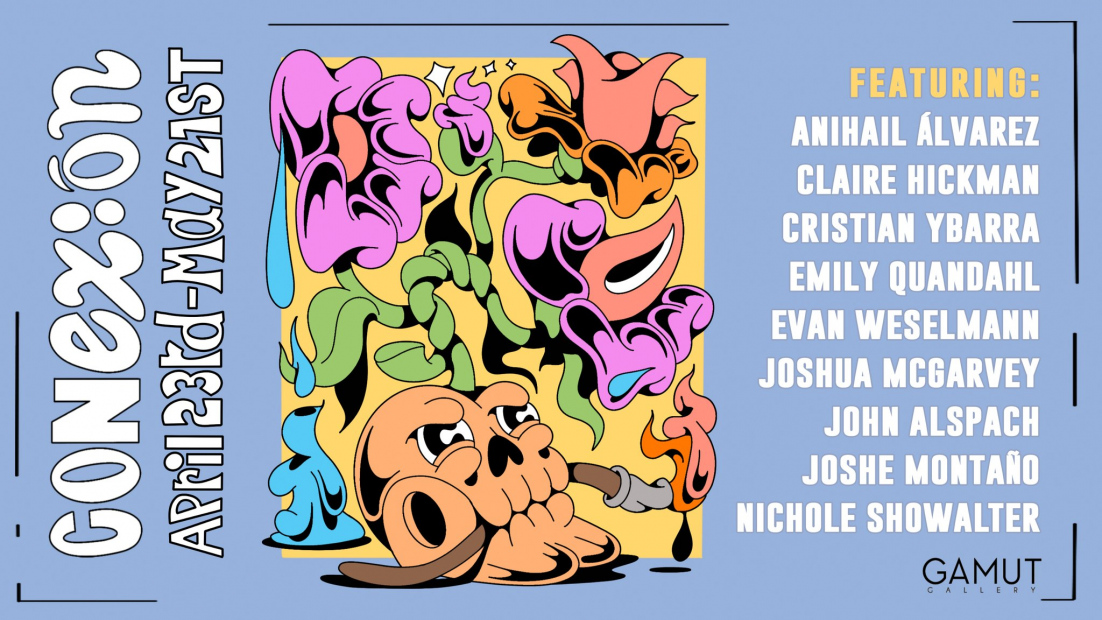 Saturday, April 23, 2022 // 6-9pm
$7pre-sales, $10 door
FREE for members - Become a Member today!
Dj set by TEKK NIKK
Pre-sales coming soon
Entry will be available at the door
Featuring: Anihail Álvarez, Claire Hickman, Cristian Ybarra, Emily Quandahl, Evan Weselmann, Joshua McGarvey, John Alspach, Joshe Montaño, and Nichole Showalter.
Curated by Gerardo Morado
Conexión refers to the union-like relationship between two or more things, people, places, or elements within a system. It is what brings us together and builds a community where there once was none. For his first curatorial exhibition, Gerardo Morado, the founder of ACME Collective, bridges conversations between local and international artists across nationalities and generations to bring us a vivid reflection of our shared human experience. As a first-generation American and emerging artist, DJ, and curator, Morado, has assembled the vibrant works in Conexión as a vehicle to unite and inspire visitors and local, young POC creatives.
Presented exclusively at Gamut Gallery, this group exhibition weaves together electric colors and engaging textures, challenging the boundaries of contemporary art. Many of the participating artists have profoundly influenced Morado's perception of art and the subcultures that encompass it: the featured paintings, illustrations, and textiles aim to foster new connections between artists and their audiences. Morado celebrates our differences while simultaneously reminding us of the common threads that bind us. In this way, Conexión upholds art as the universal language we all share.
ABOUT THE CURATOR
Gerardo Morado is a Mexican American Artist, Curator, based in Minneapolis. In 2006 at the age of 17 he was introduced to Underground Rave culture in Northeastern Mexico. This quickly became an obsession and he began to focus all of his energy on going to parties, collecting music, and learning how to DJ. 15 years later these are all tools Gerardo now incorporates as an event curator running his own event series/brand ACME collective. His main focus is promoting art, culture, and music in an intersectional, and inclusive way with a non-conforming approach. Gerardo is currently producing bi-monthly showcases which feature renowned and emerging artists in underground dance music and visual arts. These showcases intersect a full-fledged rave with a concert grade sound system, lights and visuals, and an informal art exhibition featuring a pop-up gallery and art installations.