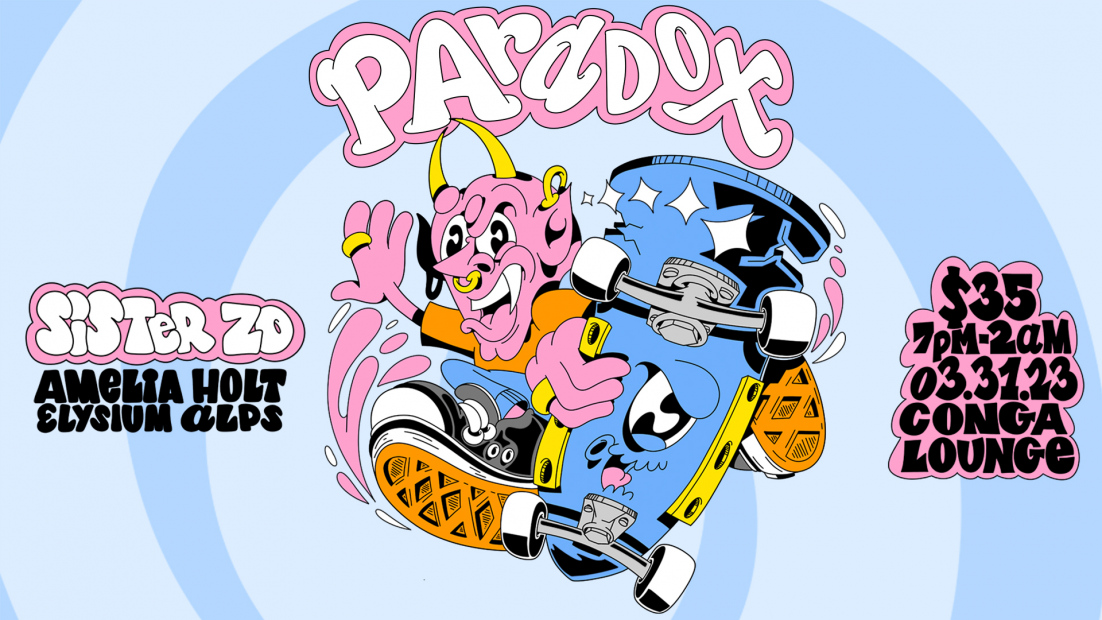 [music selectors]
{special guest}
Sister Zo
Kansas City-born Zoey Shopmaker, aka Sister Zo, has long been on a path entirely of her own making. After getting her start performing at underground poetry events in her hometown, she eventually moved on to playing live beat sets during open mic nights at one of KC's most pivotal queer nightlife institutions of the 21st century, the Uptown Arts Bar. Occasionally she'd wander upstairs to Niche, a 100-cap club with a legendary sound system known as the Meta HiFi. There she got her first taste of the sounds of the UK bass continuum and the LA beat scene, with its prominent figureheads like Flying Lotus, Ras G and Shlohmo. Ever the nomad, she would spend her mid-twenties traveling, flitting between cities like New York and LA and the mountainous terrain of the Colorado Rockies. At 26 years old, she left behind a stable career in psychotherapy to pursue her creative dreams. This would lead her back to Niche where a ravenous desire to evolve as an artist connected her with Peter Anthony, aka Coughman, who ran the independent KC collective and label, Intelligent Sound. Soon Anthony encouraged Zo and her friends Mazzy Mann and Lorelei Kretsinger to build a platform of their own. In October 2017, the three of them founded the UN/TUCK queer/trans collective and record label. Over the next two years, they tirelessly built UN/TUCK into an internationally recognized platform, releasing their own music and organizing shows and parties curated specifically for trans and queer people in Kansas City. Under the name BTRFLY, Zo produced her own LA-inspired beats and rapped over them in her sets. As she delved further into the realms of Chicago house, early 2000s UK dubstep, and the hybrid sounds of Hessle Audio, Hyperdub and Idle Hands, she discovered a profound love for DJing and a different kind of production. Now based in Brooklyn, she has made definitive creative statements in 2022, releasing her debut EP, Screw Cheek, on acclaimed UK club label, Scuffed Recordings, and a follow-up EP, Freak Shift, on Martyn's hallowed 3024 imprint, as well as a slew of national bookings at Bunker NY, Texture Detroit, Sole Rehab, clubs like Nowadays, Good Room and Kremwerk, festivals like Slingshot and Honcho Campout and many more on the horizon. It's clear that Zo has solidified her place as an emerging artist firmly in her own lane, with tracks that span the continuum of UK bass and North American techno and house, and mixes that seamlessly capture and defy her genres of interest, blending deep dark percussive bass and broken beat with blistering techno, psychedelic house, east coast club and more.
--------------------------------
* Amelia Holt
* Elysium Alps
____________________________
OPEN CALL FOR WORK
art exhibition curated by
* Gerardo Morado
--------------------------------
18+
7pm-2am
Early Bird - $20
Phase 1 - $25
Phase 2 - $30
[General Admission - $35]
www.acme-collective.com
[Void Acoustics] by @championsoundmpls
CONGA LOUNGE
501 E Hennepin Ave
illustration by @evan.weselmann
---------------------------------
Respect boundaries and consent at our events.