Gothess Presents: Electroclash Night!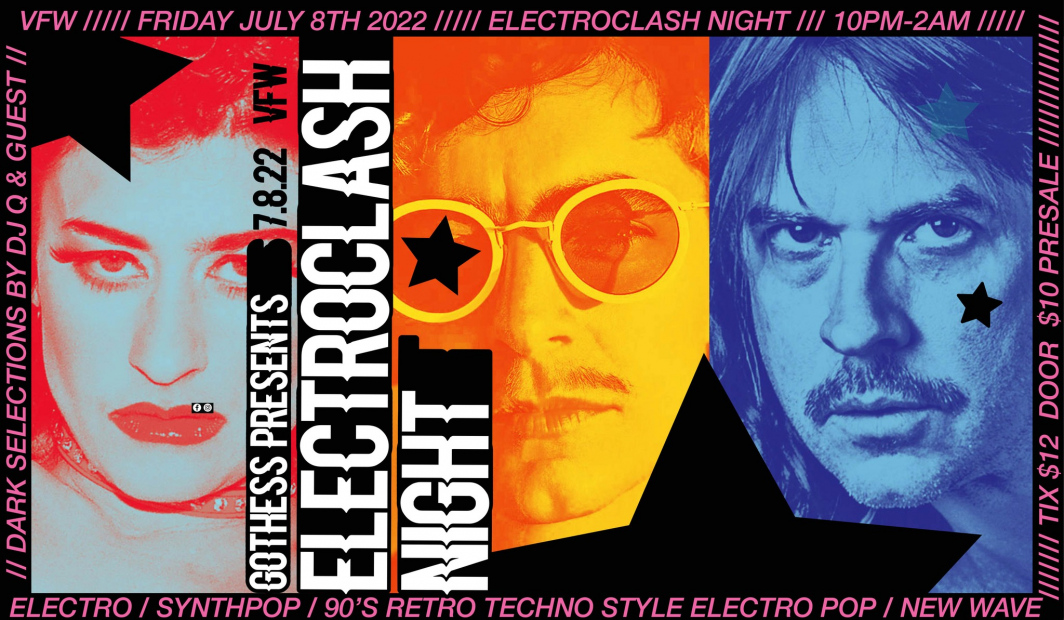 I've been wanting to do an Electroclash night for a very long time! Figure why not this year! Plenty of dark queers in our scene now. 
Electroclash is still being debated by artist, but for me it was a genre of music that kept the pulse going in the queer/pansexual clubs in the late 90's and early 2000's. I was grateful to have discovered it in my youth in Chicago at the night club Berlin. After that you could catch me walking around with CD's in my back pack for all the after parties. I guess you can say I was on my way to being a DJ and didn't even know it yet! 
The genre had a lot of queer artist/DJ's on the fringe, not to mention the tracks where being played in many queer spaces, and found a larger reach in the gay nightclubs quickly! That in itself was a big accomplishment! The tracks are dark, with opulence, and enough edge to keep you moving through the night! So, I look forward to recreating that era at the VFW with guest DJ's.
Expect some synth core, electro, tech-pop, nouveau-disco, and new wave.
Music by artist:
Peaches
Ladytron
Fisherspooner
Miss Kittin & The Hacker
Felix da Housecat
Mount Sims
Chicks for Speed
Le Tigre
Kelly
Hanayo
Dot Allison
Trobell Von Cartier
Scratch Massive
Diry Sanchez
Robots in Disguise
Skinny Patrini
Golden Boy
Dopplereffekt
Vitalic
AND More.
Featuring DJ Q (Gothess) & Guest TBA.
10PM -2AM
21+