Loki's Magic Ball at RaptureMN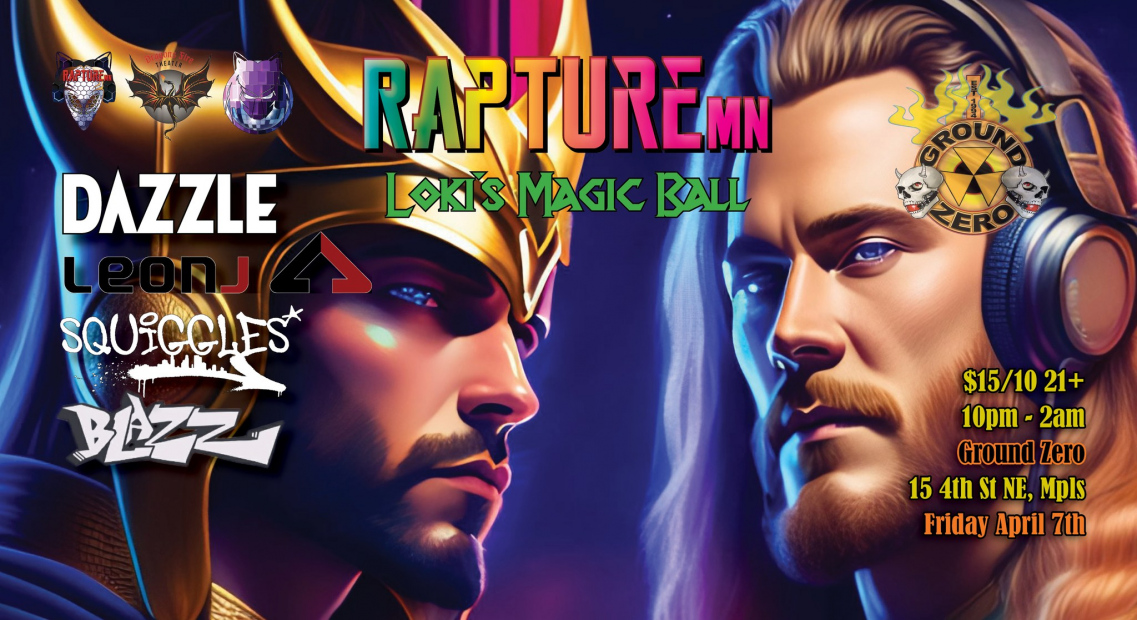 April 7th is Loki's Magic Ball at RaptureMN!
https://www.facebook.com/events/1384843725660686
With Guest appearances from Heimdall, Thor, Odin, Jörmungandr, the Tesseract, the Valkyrie, the Dark Elves, the Frost Giants, Sylvie, Loki, Loki, Loki, Loki, Loki, and probably Loki
Rapturemn is now officially a part of the Marvelous Multiverse!
Get ready for an epic night of Drum and Bass with
1am Dj Dazzle Bobbi V
12am Leon J Music
11pm Squiggles
10pm Brandon Blazz Golden
and more tba
Loki's Magic Ball at RaptureMN will highlight several of the best MPLS based DJ producers. The entire show will be amplified by an entourage of entertainers creating a spectacle of stage show including projected visuals, laser lights, LED's, Fire performance, and aerial acrobatics.
21+ $15/10 cover
$5 off when you bring your LED flow props, if you incorporate LED's into your costume, dress up as a Valkyrie, a Viking, a frost giant, or if you Cosplay as your favorite Loki variant or any other character from the Marvel Multiverse.
DAZZLE
https://soundcloud.com/dazzlempls
transsexual DJ & sound maker curating sweaty dance floor workouts and immersive soundscapes.
∆ Midwest Lezbian Junglizm
∆ Resident DJ with GOTHESS (MPLS)
house, techno, club, electro, breaks, jungle dnb, & jock jams.
Leon J
Producer | Performer | Ableton Certified Trainer
Minneapolis-based producer, performer and educator Leon J is a creative forerunner and influence in the electronic music community. Leon J's technical prowess, musical intuition and groove-driven style are apparent in each live performance. Recognized for his charismatic stage presence, Leon J's passion is clear; every appearance leaves an unforgettable impression. Recognizing music's ability to transcend barriers, Leon J maintains a finely honed edge as a producer and
performing artist, while his dynamism, energy and musical evolution continue to inspire audiences from stage to stage. With over two decades of professional experience, Leon J has produced both remixed and original music featured on Beatport, iTunes, Crooklyn Clan and Crack 4 DJs. An
Ableton Certified Trainer and Ableton Product Specialist, Leon J has served as Vice President and Educator at electronic arts school Slam Academy and is a former adjunct faculty member of the Minneapolis Media Institute. www.leonjmusic.com
www.soundcloud.com/leon-j
www.facebook.com/leonjmusic
Blazzphema
Bio: D&B Dj since 2000
Mechanix Mpls
Dj Blazz presents "Blazztastik Voyage" Live Jungle/DnB mix sessions every Fri 7pm CST Minneapolis, MN/ USA
https://www.twitch.tv/blazzdnb
https://soundcloud.com/blazzphema
https://soundcloud.com/dannysquiggles
Happy Hardcore DJ rocking the decks for over 20 years spreading the sound. https://www.facebook.com/DannySquiggles
Rapture is evolving and you can apply to join the team today.
Rapture MN is a rotating collective of local EDM and performance artists. Our vision is to bring together the best of the local scene to produce the most unique and special dance party in the Twin Cities.
We are currently booking more DJ's, performance artists, dancers, decor artist, local art vendors, technology artists, and anyone else that would help raise the vibrations of our events.
Make sure you join the Enraptured group for more info about our events. DJ's please post your playlist in the EnRaptured Group as well. We want to hear what you're spinning!