Word-Sound-Power: Sound System Culture Gathering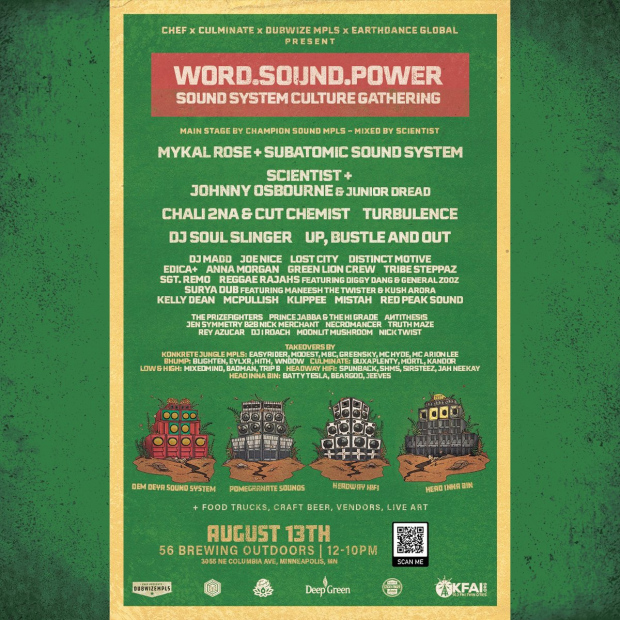 Word-Sound-Power is an event celebrating the history of sound system Culture. The event will be a Block party held around 56 brewing in northeast Minneapolis.
The event will have a main stage and multiple sound system stages. Food trucks, live artist, Arts and crafts vending, and amazing craft beer. The event hours 11:30am - 10:00 pm, all ages with children under 12 free.
Mykal Rose (
)
+ Subatomic Soundsystem (
)
CHALI 2NA & Cut Chemist
Turbulence (
)
The Scientist (
)+
Johnny Osborn (
)
& Junior Dread (
)
DJ SOUL SLINGER(
NYC)
Up Bustle & Out (
Bristol)
Joe Nice ( 
MD)
DJ Madd(MI
)
Lost City (
LA)
Surya Dub W/ Maneesh the Twister & Kush Arora(
SF)
EDICA+ (
)
Tribe Steppaz (
London)
Distinct Motive (
)
Reggae Rajahs featuring Diggy Dang & General Zooz (
)
Green Lion Crew ( 
Maine)
Sgt. Remo (
)
McPullish (
TX)
Soulfyia (
TX)
Kelly Dean (
LA)
Red Peak Sound (
CO)
PRINCE JABBA & THE HI GRADE (
MPLS)
Prizefighters (
MPLS)
Necromancer(
MPLS)
Culminate Takeover w/Buxaplenty,
Kandor, MORTL
Bhump Takeover w/Verum, Wndow, Eylxr,
Blighten, Hith
Low & High Takeover w/ mixedmind,Badman, Trip B
aиtithesis (
MPLS)
Jen Symmetry & Nick Merchant (B2B/ MPLS)
Nick Twist (
MPLS)
Ray Azucar (Uruguay/US)
Truth Maze (
MPLS)
Moonlit Mushroom (
MPLS)
Arion Lee (
MPLS)
MC Hyde (
MPLS)
DJ I Roach (
MPLS)
Head Inna Bin takeover W/Batty Tesla, Beargod, Jeeves, & Lazyrobot
Sound provided by
Head Inna Bin (MPLS)
Pomegranate Sounds (Denver)
Headway hiFi ( Madison)
Champion Sound (MPLS)
Dem Deya sound System (Denver)
Live Painting, vending, food trucks, & Vibes
***With all that's happening with the pandemic Artist are subject to change***