Sub:Culture MSP: Dinner and Dance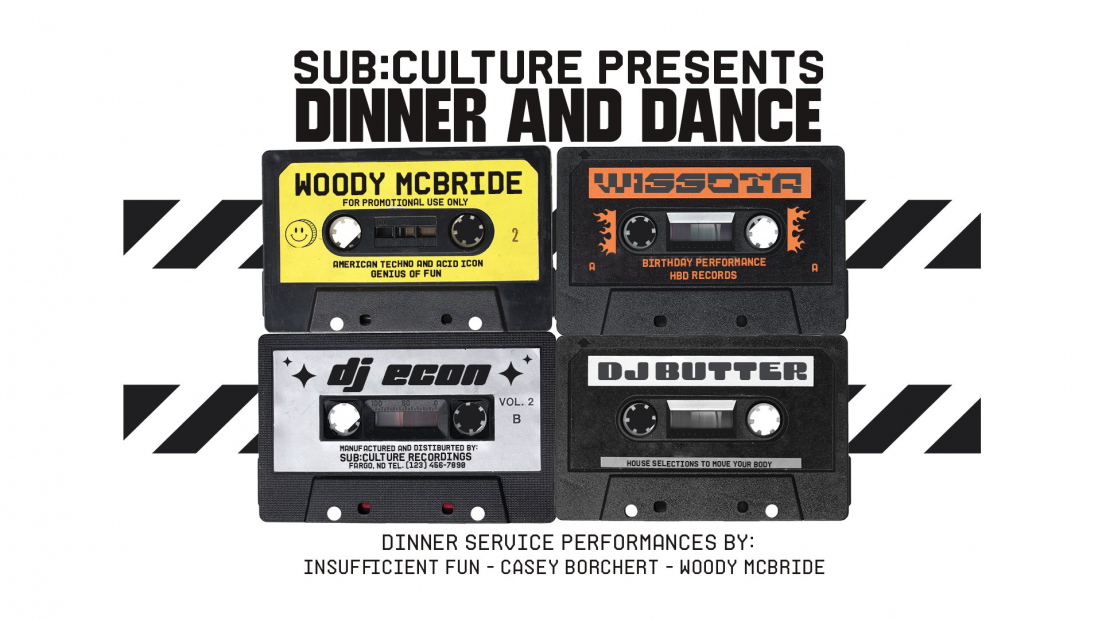 Sub:Culture is back in MSP with this special event.
Dinner and Dance featuring Woody McBride!
We're taking things a new direction with our lovely hosts at Rok Eatery. Join us for a pre-show dinner service with curated music then we flip it into a dance that will be sure to make you move!
21+ after 10:00PM $15. Dinner Service: 6:00PM, Dance: 10:00PM
Performances by:
Woody McBride - American Techno & Acid Legend
Wissota - Birthday set!
DJ Econ
DJ Butter
Dinner Service Music Curation:
Woody McBride
Insufficient Fun
Casey Borchert
=WOODY MCBRIDE aka DJ ESP=
American Techno & Acid Legend - Minneapolis, MN
Woody McBride is known to be a man of all hats in the electronic music business- musician, dj, live performer, event promoter, live audio engineer and large sound system visionary, graphic artist, music journalist, label owner, artist coach, soundtrack producer, educator, spiritual guide, sobriety and wellness advocate and ambassador for electronic music to all audiences. Since 1990, his signature deeper than deep 909 kick drum, a base chakra synth funk and a thick mysterious 303 acid sound is what has put ESP in a hard-to-label league of legendary and pioneering producers. His art now shines the brightest today.
=WISSOTA=
Birthday Set - Minneapolis, MN
Wissota's heart lies in the craft and the history of artists before them, working relentlessly to represent the scenes of past and present. Based out of Minneapolis, MN they continue to impress with their eclectic sets and production chops. Alongside their original productions, Wissota places an impeccable track selection and combines it all using their well refined mixing abilities.
Wissota has releases on Riddler Records, Project Allout Records, Phunk Junk, Good Street Records, OPIUM, and many more.
Wissota has shared the stage with the likes of SNBRN, Bear Grillz, Diplo, Habstrakt, Ghastly, Dr. Fresch, Shaun Frank, Manic Focus, Paul Basic, Gent & Jawns, Moniker, Rustie, and many more while holding down residencies in Minneapolis and at Sub:Culture in Fargo, ND.
=DJ ECON=
I like to make people dance
=DJ BUTTER=
Shawn Kiehl is DJ Butter behind the decks. In front of the decks you'd catch him cutting shapes late into the night. You could say on the dancefloor he was smooth as.... ya know... BUTTER!
Before slidin' on into Minneapolis, late nights in the local Fargo dance music scene would later influence Shawn to take his next step in his journey with music through life. After moving to Minneapolis, he sought for a similar scene, people, and music. He plunged head first into all flavors of dance music, but nothing has hooked him quite like the 4 on the floor sounds of house music.You could use the words "Feel Good" "Thumping" or "Disco Inferno" to describe the style, intensity, and vibe of a DJ Butter set.
DJ Butter has played for Groove Cruise, Key Elements Ent., Rhyze Ent., and a variety of other local shows and livestreams