The Space Ball at RaptureMN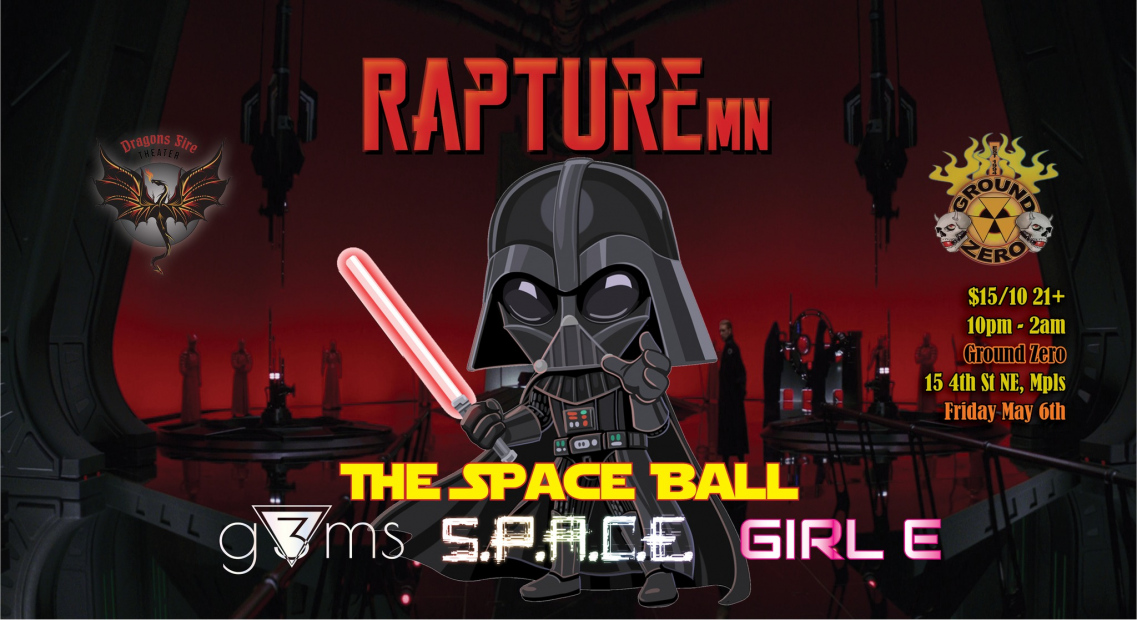 It's the Space Ball: Revenge of the 6th!

You wanted more Baby Yoda, more Klingons, Reavers, Clyons, Vorlons, Asgaurdians, and Goa'uld.
Settle down Dot. Welcome to the Space Ball!
Featuring
1:00 S.P.A.C.E aka Space Munky
12:00 G3ms
11:00 Lisa Girl E
10:00 UV noise
Dragons Fire Theater/Dragons Lair Performing Arts team
Angela Higgins
Cassandra Anne Noir
Jazzy Plantikow
Justice of Dragons
Local Artists Ranae Bo, Shtey, Adam Simon,
Local Vendors the Crown Prints
Photo Booth by Anne Fry
Stage Photos by Steve Bozeman
And more tba
The Space Ball at RaptureMN will highlight several of the best MPLS based DJ producers. The entire show will be amplified by an entourage of entertainers creating a spectacle of stage show including projected visuals, laser lights, LED's, Fire performance, and aerial acrobatics.
21+ $15/10 cover
$5 off when you bring your LED flow props, if you incorporate LED's into your costume, or if you Cosplay in the style of or as your favorite Space based science fiction character
S.P.A.C.E. is a progressive techno project from St. Cloud, MN launched in 2020 and dedicated to using dance music to express themselves and explore the human condition, linking together with their audience body-to-body and mind-to-mind.
The musical experience that springs from this is an experiment in the universal way that music transcends all barriers and boundaries that exist between us and brings us together on dance floors to explore one universal truth: that we are all of us as humans connected in time and also space. One Planet. One Species. One Destiny.
S.P.A.C.E. aka Space Munky
https://soundcloud.com/spacemunkyzero
Space Munky is an artist from Minneapolis, MN who believes that DJing is an art form capable of understanding, transcending, and uplifting the human condition and that dance floors and mixes are a sacred space where one is able to lose oneself and find oneself.
His mix series "Letters From Space" are a deliberate attempt to explore this ideal, usually in the realms of house and techno.
His debut EP "Ghost Moon" was released on Cosmography Records in November of 2020 and is a genre bending exploration of both the spaces between electronic music and the spaces between us as people.
Currently you can find him at home hard at work on his new EP and getting ready to start a new livestream concept.
g3ms
https://soundcloud.com/g3msies
Untz untz untz, House Music! American/Scandinavian producer, dj & vocalist, g3ms brings you deep into the deeper side of house, developing minimalistic, tech-inspired bass lines alongside groovy future sounds all subtly laden with melodic riffs and rich syths. After playing alongside breaks artists at Miami Music Week in 2018, she started incorporating a splash of breakbeat elements into her sound. In August 2018, she released her debut track, Pump Up, on Dog Eat Dog Records which hit beatport's top 15.
She grew up in a family of professional musicians and played classical flute from a young age. Her addiction to electronic music originally developed as a teenager living in Denmark.
Still a house devoteé, her newest single, Wake Me Up, is set to release the summer of 2019.
GIRL E
https://soundcloud.com/girle
GIRL E is known for making Funky, Hip House & Jackin House sets sound smooth and sexy by blending in a strong sense of GirlE femininity and House flair. Girl E has shared the decks with house music staples like DJ Collette, DJ Freddy Fresh and Dimitri Max all around Minneapolis nightclubs including the legendary club First Avenue and Honey. Girl E hosted her own weekly radio show, Grove Room and co-hosted Funk Yeah! with Chicago dj XEL on Chicago House FM for years. Staying true to House music but often blending in Deep House, Breaks, Tech House and even Tribal House, Girl E's sets will keep you dancing.
DJ noise
Skaht Hansen
noise has been a fixture of the Minneapolis music scene since the 1990's, when he was a founder of the darkwave and industrial production companies Nachtmusik, Inc. and Silent Productions while simultaneously playing in the goth punk and post-gothic bands Glass and Silent Tristero.
Since those days, he has shared the bill with such acts as Skinny Puppy, VNV Nation, Aesthetic Perfection, Front Line Assembly, and countless others.
Bringing layered, pulsing, and hypnotic beats, noise finds a cross between the familiar and the sublime.
Having played venues from mere tens to several thousands in size, noise is currently resident at Ground Zero in Minneapolis, as well as dj for the Minnesota Rollergirls, but also likes to travel to play outside of his home town whenever possible.
One can usually find noise floating around the club on his bottom-lit roller skates.
https://groundzeromn.com/disc-jockeys/noise/
Ranebo
Guide | Reiki Master | Multi Media Creator
Founded in healing through expression Ranebo specializes in bringing vivid visions to life. Wether that vision is an article of clothing, a painting, or a goal you want to see yourself achieve Ranebo offers a wide variety of services to support their community. From coaching sessions, Reiki healings, oracle card readings, creating/fixing/upcycling garments, wire wrapping crystal wands, jewelry crafting, painting on bodies and canvases, Ranebo is certainly a jack of many trades and is constantly expanding mediums and modalities. So, if you have a vision and seek guidance on bringing it to life (regardless of what that vision is) Ranebo is either equipped to help you themselves or knows someone who can.
www.campsite.bio/ranebowarrior
Anne Fry Photography
Anne has been interested in photography for the past 20+ years, starting with her experience at Lifetouch, Inc, when she tested the earliest digital cameras and helped open Lifetouch's first digital portrait studios. More recently, her camera has turned to photo booths, nature, and cosplayers. She especially enjoys capturing others at photo booths, helping them record memories of their night out.
Steve Bozeman
Photographer
Steve has been an avid photographer since 2017, starting out photographing wildlife and expanding to cosplay and aerial acrobatics. He has photographed performances in several local venues, including Ground Zero, Can Can Wonderland, Lush, Black Hart, and Cheap Skate. He has also photographed cosplayers at Convergence, Anime Detour, and DragonCon. He's currently most excited about capturing movement and dramatic lighting through photography. Steve can be found on instagram as @clockworksteve.
Rapture is evolving and you can apply to join the team today.
Rapture MN is a rotating collective of local EDM and performance artists. Our vision is to bring together the best of the local scene to produce the most unique and special dance party in the Twin Cities.
We are currently booking more DJ's, performance artists, dancers, decor artist, local art vendors, technology artists, and anyone else that would help raise the vibrations of our events.
Make sure you join the Enraptured group for more info about our events. DJ's please post your playlist in the EnRaptured Group as well. We want to hear what you're spinning!