mnVibe pres. Go Thank Yourself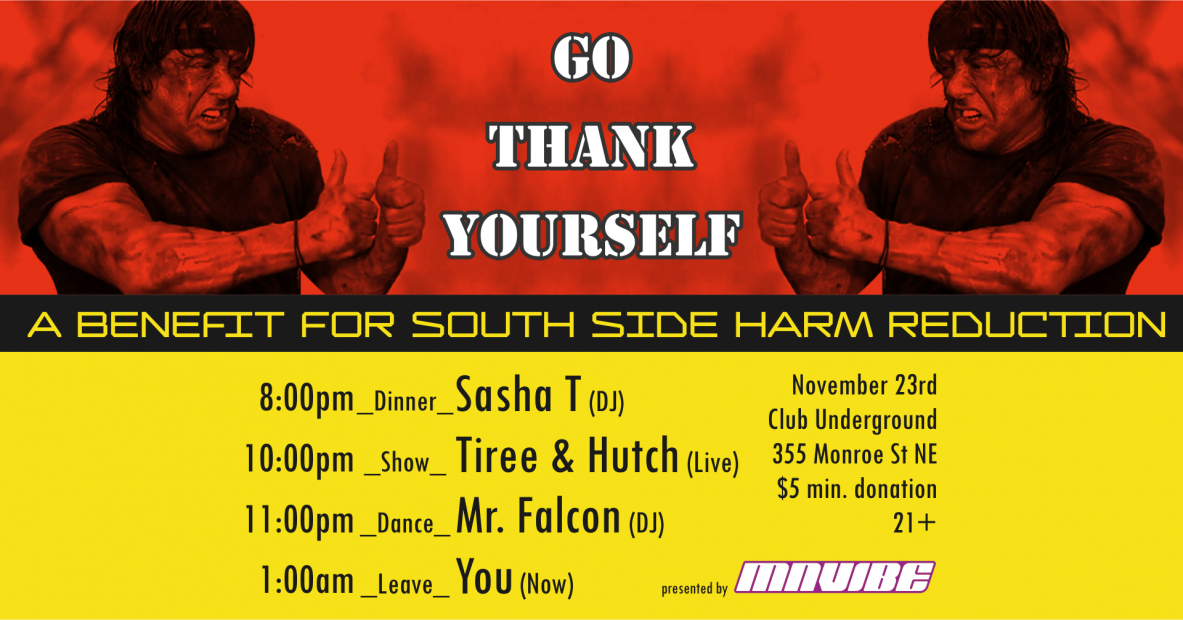 Dave Eckblad in association with mnVibe presents...
GO THANK YOURSELF
...a fundraising event for Minneapolis' Southside Harm Reduction Services.
Mr. Falcon
Samuel Gan of the Philadelphia DJ duo Mr. Falcon will be in town visiting family for Thanksgiving. I thought it'd be a good opportunity to book them. I had first found him and Will Hoover on Twitch in early 2020 when we were all stuck at home. They do a great job of weaving between house, nyc club, techno, electro, breaks and other oddities all while presenting cats on demand. After seeing them support Intellephunk's Distant Future streams and my own Twitch channel a bunch, I offered them an opportunity to play our Distant Future live stream for New Years Eve 2021. I think you'll have a great time jamming and dancing to his tunes!
Tiree & Hutch
I met Mike after playing a show with Jobot and Mount Curve in Fargo. Instead of heading back on 94, we opted to go through Detroit Lakes and down HW 10 so we could follow the train tracks. Under advisement from Carl, we stopped in Little Falls to meet Mike for lunch at a nice taqueria. We exchanged information in regards to the operation of various forms of electronic instruments. I later saw them perform live for Fractal Geometry at Red Sea. Quick-cutting jungle drum and bass synths and drum loops were jostled in a manic fashion while still progressing with careful pacing. I'm excited to hear more in this same vein during their live set!
Sasha T
Neither of us know when we met. I'm rather certain Sasha slowly materialized into my life as we'd both been attending or running a lot of the same electronic dance shows we've been at. Their `Cassette` series of events gave them an opportunity to demonstrate their well-rounded appreciation of music from all walks. Country, dub, gaze, noise, pop, glam, rnb, soul, jazz, disco, motorik, house, techno, et al. I'm very excited to have them play for our dinner service portion of the event. 
Please come early, this is a DINNER, SHOW and DANCE event featuring my custom build HiFi PA system.
November 23rd, 2022
8pm-1am (music till 12:30am)
Club Underground
355 Monroe St NE
$5 minimum donation
21+