Mechanix presents Redeyes and Anthony Kasper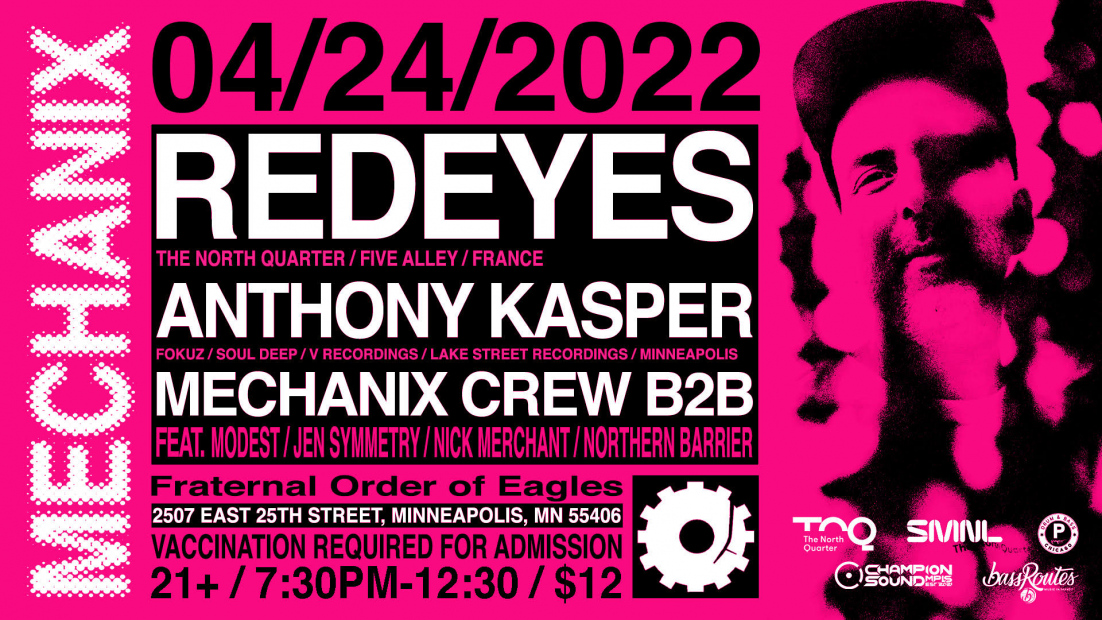 Mechanix presents Redeyes featuring Anthony Kasper and the Mechanix crew.
21+ $12 at the door 730 pm to 1230 am
Proof of vaccination required at the door.
Set times:
730 pm - Mechanix crew b2b
10 pm - Anthony Kasper
11 pm - Redeyes
REDEYES
The North Quarter / Five Alley / FRANCE
Hailing from France near Toulouse, Julien Salvi, aka REDEYES began his journey of music appreciation very early through a multitude of genres. A deep love for early hip hop and electronic/rave music arose along with a great appreciation for mixing records. His fascination with the production of the more organic rhythms of soul, jazz, and afro beats that really took his attention. At this time, Ninja Tune and Mo Wax were making some interesting sounds with samples mixing jazzy beats. Then he heard jungle music—and it was game ON. As a teen, he was already addicted to buying 12"s, and was spinning hip hop, house, diving into the early jungle sounds of drum and bass. Through the European and emerging stateside music scenes, his exposure to music was vast. From rock (Zeppelin, Pearl Jam, Hendrix), to hip hop (Public Enemy, De La Soul, Tribe Called Quest); and UK-based jungle/DnB; Redeyes developed a sweet spot for hip hop and afro-groove-sounds coming out of the U.S. By the time he got his first laptop to start producing tracks in the late 90s/early 2000s, he was already DJing and building a name for himself. Working initially on abstract hip hop and soul-based sounds, he phased into developing drum and bass productions. He found his inner DnB soulful vibes around early 2000s, with a string of releases to follow in 2006 and beyond on clutch labels like Innerground Records, Spearhead, Intrinsic Recordings, Crisis, Brigand, and Creative Source. Zinc gave him his first break on Bingo, and remained one of his strongest supporters along with Fabio, DJ Flight, DJ Marky and LTJ Bukem who were all playing his tunes early on. Redeyes' track "Pusherman" on Bingo was pivotal; reaching dance floors to high acclaim through artists like Roni Size, Lenzman, LTJ Bukem, and Fabio on BBC Radio; as well as outside-of-DnB DJs like Bonobo and Laurent Garnier. Some of his first projects with keystone artists in the industry such as Alix Perez, Lenzman, Eveson, Random Movement, MUTT, helped to broaden his exposure to more audiences. His first two solo albums "Poetry in Motion" (Spearhead) and "Part of Me" (on Vandal), later followed. While getting other practical industry business experience over the next 5 years at Vandal Records and Vandal LTD, Redeyes discovered his love for music production. Working on some local projects with friend Sweed in Paris, and Lenzman in the Netherlands, this incredibly versatile artist brought together all of his inspiration into a number of releases like the "Memory Lane" EP Parts 1 and 2 on Vandal in 2016 and well-known "Blueprints" on Lenzman's The North Quarter label in 2017. Signed to TNQ since, Redeyes is at home with his music style within The North Quarter family. After releasing his critically acclaimed half hip-hop and half drum and bass album "Broken Soul" on TNQ in late 2018, Redeyes has galvanized his presence in soulful dnb while still blurring the lines of genre. Redeyes' ability to capture the essence of jazz, funk, hip hop and soul have launched countless amazing collaborations with artists like GLXY, Monty, Hus Kingpin, IAMDDB, Tyler Daley, Jugganot, Dj Flight, Lovescene, Abnormal Sleepz, HMD, [ K S R ], Black Josh , DRS, and Milano Constantine (DITC) to name a few. 2020 & 2021 have brought a steady flow of chart-topping releases like "Lust" (on TNQ); "Cinnamon Roses" with DRS/HMD on the Light Language LP (Space Cadet); "Promise" with Kemi Ade (on Tenwest), and "Burdens/Empty Promises on Fox's new LP (TNQ). The list goes on with two full LPs: "Coloured" with DRS on Space Cadet, and his pivotal solo album "Selfportraits" on The North Quarter. Bringing light to humanitarian and equality issues, Redeyes continues to create ground-breaking musical experiences and a soundtrack to life. Redeyes is making his mark with soulful danceable music around the globe. He has reached countless festivals and nights over the years—playing in the Netherlands, Belgium, Italy, Austria, Poland, Germany, France, Spain, and Hungary; with other notable appearances Serbia, Slovakia, Croatia, Czech Republic, New Zealand, USA, Canada, Australia, Macedonia, Finland, Japan and China—as well as all over the UK. In September 2021, Redeyes launched his new label FIVE ALLEY with fellow Toulouse kindred spirits Eva Marquis and Tom Fotom. With soulful drum and bass vibes of epic proportions, their first EP release is "This Must Be the Place" which features collaborations with Lenzman, DRS, [ KSR ], and Monty. With no signs of letting up on a constant flow of brilliant productions released in late 2021, and more coming in Spring 2022, keep a close watch on this amazing artist as the adventures continue with upcoming US/Canadian appearances.
ANTHONY KASPER
MINNEAPOLIS, MINNESOTA
Fokuz, Soul Deep, V, Lake Street Recordings
Anthony Kasper, more commonly known by just his surname, is a Minneapolis based producer and DJ. The 30-year-old has been DJing and crafting high energy, funky liquid drum and bass for over a decade. His catalogue boasts 17 vinyl releases and 80+ digital releases via Fokuz, V Recordings, and other noteworthy labels. Since 2016 he has completed 2 USA tours covering 10 states, and 1 European tour covering 13 countries – including playing at Let It Roll festival, one of the largest EDM festivals in the world. Selected by DJ Mag as one of the top up and coming US Drum and Bass producers, Anthony's music is frequently supported by heavy weights like Friction, Technimatic, DJ Marky, Bryan G and Random Movement and on BBC Radio 1. In 2020, Kasper started releasing music independently under his imprint Lake Street Recordings. On the Minneapolis circuit, Anthony is a full time professional DJ. His versatile style draws influence from the funk, soul, and jazz records he grew up listening to. Kasper is a resident DJ at The Living Room @ The W Hotel downtown. You can find him regularly performing at nightclubs, opening up for international acts like Noisia and Pendulum, and in the stadiums for NBA Timberwolves, NFL Vikings, WNBA Lynx and Minnesota United FC home games.
Links
facebook.com/kasperdnb
instagram.com/kasperthedj
soundcloud.com/anthonykasper
twitter.com/kasperdnb