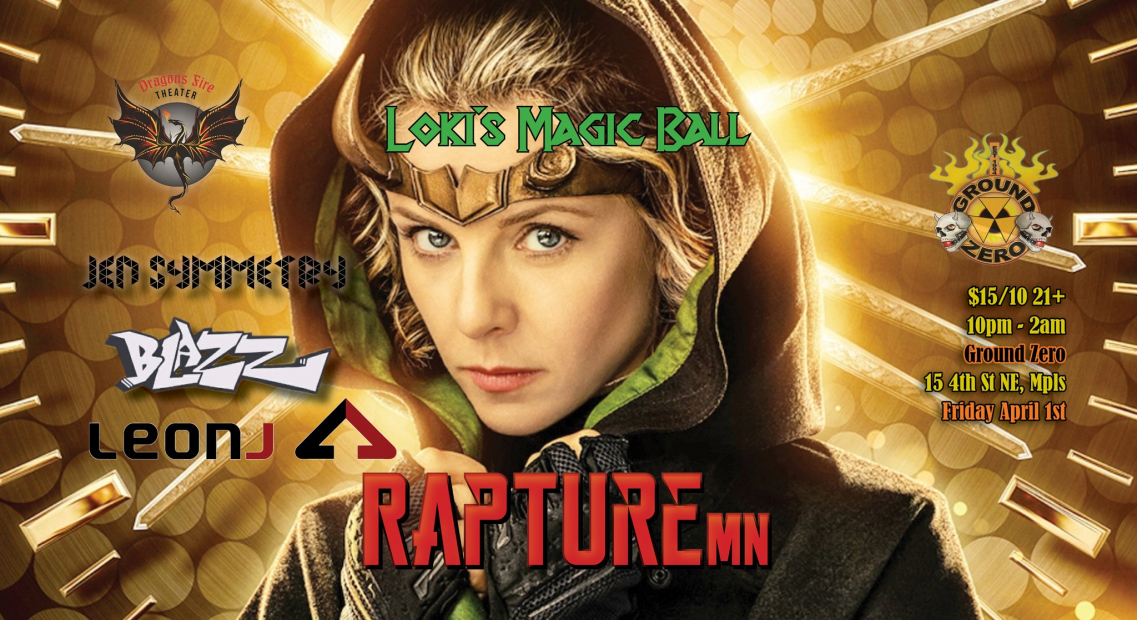 April 1st is Loki's Magic Ball at RaptureMN!

With Guest appearances from Heimdall, Thor, Odin, Jörmungandr, the Tesseract, the Valkyrie, the Dark Elves, the Frost Giants, Sylvie, Loki, Loki, Loki, Loki, Loki, and probably Loki
Rapturemn is now officially a part of the Marvelous Multiverse!

Featuring:
1:00AM Leon J Music
12:00AM Brandon Blazz Golden
11:00PM Jen Symmetry
10:00PM Thomas Hegdahl Brainlink
Dragons Fire Theater performances by Megan Luscomb, Samantha Morin, Angela Higgins, Justice Draconis
Special guest painter Shar Izard
Ranebo Riot, Jordan Bovee', Ultra Violet World, Ideal Jewels, Miss Astro Spook, Cassandra Garza Tree Of Life Creativware,
Photo booth by Anne Fry
Stage photos by Steve Bozeman, Sophiea Owen
Video by Jonn Robinet
Loki's Magic Ball at RaptureMN will highlight several of the best MPLS based DJ producers. The entire show will be amplified by an entourage of entertainers creating a spectacle of stage show including projected visuals, laser lights, LED's, Fire performance, and aerial acrobatics.
21+ $15/10 cover
$5 off when you bring your LED flow props, if you incorporate LED's into your costume, dress up as a Valkyrie, a Viking, a frost giant, or if you Cosplay as your favorite Loki variant or any other character from the Marvel Multiverse.
Leon J
Producer | Performer | Ableton Certified Trainer
Minneapolis-based producer, performer and educator Leon J is a creative forerunner and influence in the electronic music community. Leon J's technical prowess, musical intuition and groove-driven style are apparent in each live performance. Recognized for his charismatic stage presence, Leon J's passion is clear; every appearance leaves an unforgettable impression. Recognizing music's ability to transcend barriers, Leon J maintains a finely honed edge as a producer and
performing artist, while his dynamism, energy and musical evolution continue to inspire audiences from stage to stage. With over two decades of professional experience, Leon J has produced both remixed and original music featured on Beatport, iTunes, Crooklyn Clan and Crack 4 DJs. An
Ableton Certified Trainer and Ableton Product Specialist, Leon J has served as Vice President and Educator at electronic arts school Slam Academy and is a former adjunct faculty member of the Minneapolis Media Institute. www.leonjmusic.com
www.soundcloud.com/leon-j
www.facebook.com/leonjmusic
Jen Symmetry
Known for her crowd-pleasing vibes and precise mixing skills, Jen's been a staple of the drum & bass scene since the early 2000's as a member of Bassheadz Crew and DC Productions. She quickly earned respect by offering direct support for international headliners at memorable clubs such as the Ascot Room, Foundation, and First Ave, and by keeping crowds moving at parties and festivals throughout the Midwest. After 10 years in NYC, she's representing her hometown of Minneapolis once again.
https://soundcloud.com/jensymm.../jen-symmetry-2018-fall-mix
facebook.com/jensymmetrydj
soundcloud.com/jensymmetry
Blazzphema
Bio: D&B Dj since 2000
Mechanix Mpls
Dj Blazz presents "Blazztastik Voyage" Live Jungle/DnB mix sessions every Fri 7pm CST Minneapolis, MN/ USA
https://www.twitch.tv/blazzdnb
https://soundcloud.com/blazzphema
Sharizard X Art
Nothing is livelier than when Sharizard is live painting, breathing in music and exhaling art, witness this artist's work come to life before your eyes using brilliant UV colors to create vibrant, and out of this world, scenes and characters.
https://www.facebook.com/SharizardXArt/
Ranebo
Guide | Reiki Master | Multi Media Creator
Founded in healing through expression Ranebo specializes in bringing vivid visions to life. Wether that vision is an article of clothing, a painting, or a goal you want to see yourself achieve Ranebo offers a wide variety of services to support their community. From coaching sessions, Reiki healings, oracle card readings, creating/fixing/upcycling garments, wire wrapping crystal wands, jewelry crafting, painting on bodies and canvases, Ranebo is certainly a jack of many trades and is constantly expanding mediums and modalities. So, if you have a vision and seek guidance on bringing it to life (regardless of what that vision is) Ranebo is either equipped to help you themselves or knows someone who can.
www.campsite.bio/ranebowarrior
https://www.facebook.com/TreeOfLife.Creativware/
We provide affordable one of a kind jewelry formed by intention and love.
Creators of hand-made goods, crafted with love, with the intention of creating harmony on a community and personal level.
Here you will find completely unique creative goods to fit your creative style. Ware: "Goods or artistic services serving a specific purpose; to be in a state of awareness."
Any item that you take was specially made just for you, and like you, there is none other like it in existence.
Each item is made to assist your spiritual life in some way. From the crystals used within it, to the color schemes or the type of energy directed into it's creation, each one fits a specific purpose. We know it will find you if it's meant to, helping to raise your vibrations and in turn the collective energy of our community.
ULTRA VIOLET is a jewelry line whose vision is to inspire artistic and fashion expression using bright colors, whimsical designs and novelty pieces, materials that are upcycled and repurposed. Many of these items are one of a kind and ethically sourced. All items are handmade with love and a sense of humor.
Facebook: www.facebook.com/ultravioletrebrand
Instagram: @ultravioletrebrand
#ultravioletrebrand #ultravioletworld
#idealjewels
Anne Fry Photography
Anne has been interested in photography for the past 20+ years, starting with her experience at Lifetouch, Inc, when she tested the earliest digital cameras and helped open Lifetouch's first digital portrait studios. More recently, her camera has turned to photo booths, nature, and cosplayers. She especially enjoys capturing others at photo booths, helping them record memories of their night out.
Steve Bozeman
Photographer
Steve has been an avid photographer since 2017, starting out photographing wildlife and expanding to cosplay and aerial acrobatics. He has photographed performances in several local venues, including Ground Zero, Can Can Wonderland, Lush, Black Hart, and Cheap Skate. He has also photographed cosplayers at Convergence, Anime Detour, and DragonCon. He's currently most excited about capturing movement and dramatic lighting through photography. Steve can be found on instagram as @clockworksteve.
Rapture is evolving and you can apply to join the team today.
Rapture MN is a rotating collective of local EDM and performance artists. Our vision is to bring together the best of the local scene to produce the most unique and special dance party in the Twin Cities.
We are currently booking more DJ's, performance artists, dancers, decor artist, local art vendors, technology artists, and anyone else that would help raise the vibrations of our events.
Make sure you join the Enraptured group for more info about our events. DJ's please post your playlist in the EnRaptured Group as well. We want to hear what you're spinning!