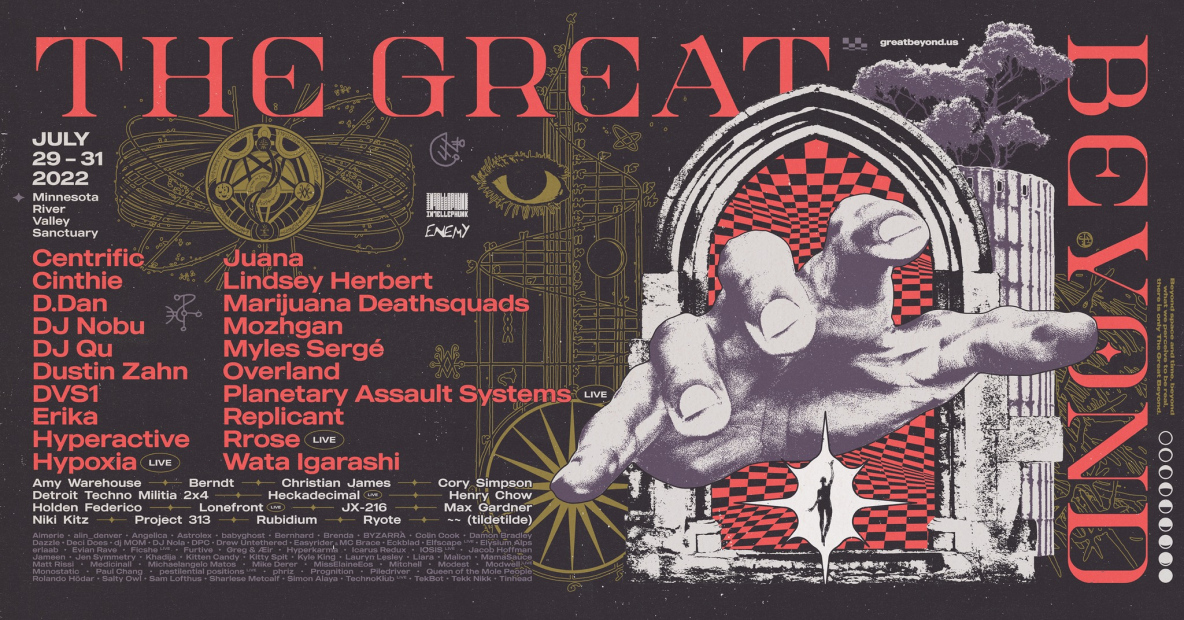 INTELLEPHUNK & ENEMY RECORDS
in Association with The Headspace Collective:
◄◄ THE GREAT BEYOND ►►
July 29 – July 31, 2022
Music 12:00pm Friday - 10:00pm Sunday
Gates open: 10am Friday, July 30th (closed from 12am-9am)
Camp till: Monday morning, August 1st
◄◄ 3 STAGES ►►
▸Intellephunk/Enemy
▸Communion
▸The Headspace Collective
◄◄ LINE UP ►►
Centrific, Cinthie, D.Dan, DJ Nobu, DJ Qu, Dustin Zahn, DVS1, Erika, Hyperactive, Hypoxia Live, Juana, Lindsey Herbert, Mozhgan, Marijuana Deathsquads, Myles Sergé, Overland, Planetary Assault Systems Live, Replicant, Rrose Live, Wata Igarashi
Go to www.greatbeyond.us for the full LINE UP NOW!!!
◄◄ TICKETS ►►
Buy tickets at: www.greatbeyond.us
▸TIER 1: $150 (blind faith / general admission)
▸TIER 2: $200 (general admission)
▸DOOR:$240
▸BUS TICKET: $35 (Roundtrip from MSP airport)
▸RV PASS: $100 (limited: first come, first serve)
Limited capacity event! General Admission includes free tent camping.
◄◄ VENUE ►►
Minnesota River Valley Sanctuary
62657 430th St
Franklin, MN
◄◄ Take your place in The Great Beyond… ►►
The Great Beyond will focus on a tighter, communal experience by emphasizing fewer stages and shorter walking distances. We'll go through this together, and strengthen standing relationships, or create new ones along the way. Rest assured, if things get too weird, you'll still have plenty of space to escape the madness.
◄◄ INCLUSIVITY IS KEY (ZERO TOLERANCE) ►►
Racism, bigotry, homophobia, transphobia, and basically any other phobia will not be tolerated. Anyone caught violating this policy will be removed from the premises immediately...without refund.
◄◄ IMPORTANT INFO ►►
▸All stages are open air and will run rain or shine
▸Professional Security, and EMS on hand 24hrs a day
▸21+ BYOB with ID
▸ID Required for entry
▸No alcohol sold on site
▸Cash only! No ATM
◄◄ CAMPING/ACCOMMODATIONS/BATHROOMS ►►
▸Primitive camping
▸Clean water
▸Clean bathrooms
▸No showers
▸Free Parking. Please Carpool.
▸Limited RV/van/camper passes available (no hook ups)
▸Hotels nearby (Jackpot Junction Casino, Morton Inn)
◄◄ AIRPORT BUS/HOTEL SHUTTLE ►►
▸New this year: Affordable roundtrip bus from MSP Airport
▸Perfect for guests flying in, or locals without cars.
▸Airport Bus departs 4pm Friday, arrives 11:30am Monday
▸Free hourly hotel shuttle between Jackpot and TGB
▸Shuttle available to all TGB guests
▸For more info, visit www.greatbeyond.us
◄◄ FOOD/VENDING ►►
Food/water vending on site. Specific info soon.
Want to vend? Email us: [email protected]
◄◄ THEM'S THE RULES ►►
▸No glass bottles
▸No van/car camping
▸No sales or use of controlled/uncontrolled substances,
▸No campfires, weapons, sound systems, fireworks, graffiti, atvs, or dogs.
▸THIS IS A 'LEAVE NO TRACE' EVENT. Pack it out, Pack it in.
◄◄ DRIVE TIME ►►
Minneapolis - 1:45h
Chicago - 7:30h
Madison - 5:30h
Milwaukee - 6:20h
Cedar Rapids - 4:50h
Des Moines - 4:15h
St Louis - 9:15h
▸Closest Airport:
Minneapolis St Paul International - 2:00h
◄◄ SAFETY INFORMATION / COVID PROTOCOL ►►
All three stages are entirely outdoors with plenty of room to spread out.
We intend to follow all guidelines mandated by the state government at the time of the event. We ask everyone to be flexible with us. If the overall situation takes a turn for the worst, we'll postpone the event until next year and tickets will be honored in 2023. If you are uncomfortable with this, please contact us.
◄◄ Art Direction & Illustration ►►
Ryote and Carolyn Kopecky
Deco by Pussycore
▸Official Sites
www.greatbeyond.us
www.enemyrecords.com
www.intellephunk.com
▸Other Platforms
https://www.instagram.com/thegreatbeyondmn/
www.instagram.com/intellephunk
https://www.instagram.com/dustin_zahn
www.snapchat.com/add/intellephunk
www.twitter.com/GreatBeyondMN
◄◄ Sign up for our Mailing list to find out first ►►
https://greatbeyond.us/contact.php