Sub:Culture MSP Presents JOE NICE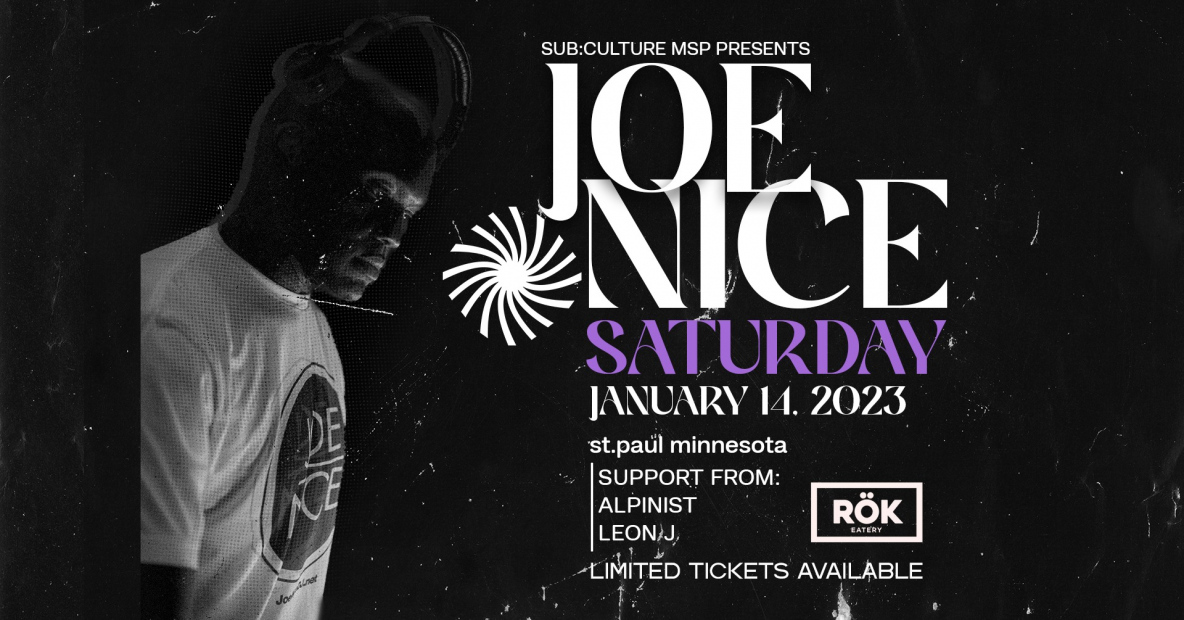 Sub:Culture MSP Presents: Joe Nice
Welcome to our Sub:Culture Minneapolis St. Paul!
We are excited to host the legendary Joe Nice for this intimate show.
LIMITED TICKETS AVAILABLE:
Tickets will be available on 12-19-22 at noon.
There are only 60 tickets available for this show.
ROK Eatery
882 West 7th St STE 12
St. Paul, MN
Saturday, January 14th, 2023
Drinks:
$3 Shots
THC Beverages, Craft Beer, Craft Cocktails, Sake
+21
Support from:
ALPINIST
LEON J
//JOE NICE
Born in Southampton, United Kingdom, growing up in Baltimore, MD, USA but
now based in North Carolina, Joe Nice is universally recognized as the ambassador of
the dubstep sound in North America and has been highly instrumental in the growth
and success of dubstep and bass music for the past twenty-one years. Essentially, he
played dubstep before the genre had a name. He is North America's first and most
respected dubstep DJ and is globally known as one of the most genuine and talented
artists in the dubstep community.
//ALPINIST
Alpinist is raising a storm in the northern forests. Old school respect meets modern sounds with rave rated, dark, heavy tracks from deep in the forest that will dive into your nightmares while lifting the floor. Alpinist has been flexing sound systems with an emphasis on jungle influenced, dark, rolling tunes with sounds equally fit for warehouses and the festival circuit. Impressing audiences with their technical mixing abilities on stage and production chops off stage. Get ready because Alpinist is just beginning their ascent.
//LEON J
Minneapolis-based producer, performer and educator Leon J is a creative forerunner and influence in the electronic music community. With nearly two decades of professional experience, Leon J has produced both remixed and original music featured on Beatport, Crooklyn Clan and Crack 4 DJs. An Ableton Certified Trainer and Product Specialist, Leon J also serves as Vice President and Educator at electronic arts school Slam Academy and is an adjunct faculty member of the Minneapolis Media Institute. Specializing in mixing, mastering, remixing and DJ and performance techniques, Leon J's well-rounded skill set provides a strong foundation of knowledge. Leon J's passion is clear; every appearance leaves an unforgettable impression on his audience.