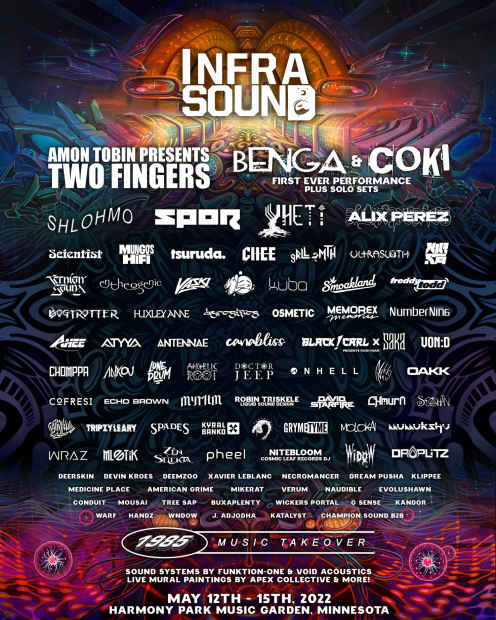 TICKETS ON SALE at 10am Friday Feb 4th here --> https://bit.ly/infrasound2022

Amon Tobin Presents TWO FINGERS, Benga & Coki - (first ever performance in the world) + solo sets, Shlohmo, Spor, Yheti, Alix Perez (+1985 label takeover), Scientist, Mungos Hi-Fi (debut US festival performance), Tsuruda, Chee, grLL sMTH, Ultrasloth, Kursa, Ternion Sound, Entheogenic, Vaski, K.L.O, Kuba, Smoakland, Freddy Todd, Bogtrotter, Huxley Anne, Hyroglifics, Osmetic, Memorex Memories (debut US performance), Numbernin6, Ahee, Atyya, Antennae, Canabliss, Black Carl! & Saka present Rush Hour, Von D, Chomppa, Ankou (debut US performance), Lone Drum, Angelic Root, Doctor Jeep, Onhell, Nikki Nair, Oakk, Cofresi, Echo Brown (First festival performance), Mythm, Robin Triskele (Liquid Sound Design), David Starfire, Chmura, Soohan, Bukkha, Tripzy Leary, Spades, Kyral x Banko, Shrimpnose, Grymetyme, Molokai, Mumukshu, Wraz, Mlotik, Zen Selekta, Pheel, Nitebloom (Cosmic Leaf Records DJ), Widow, Droplitz, Deerskin, Devin Kroes, Deemzoo, Xavier LeBlanc, Necromancer, Dream Pusha, Klippie, Medicine Place, American Grime, Mikerat, Verum, Naudible, Evolushawn, Conduit, Mousai, Tree Sap, Buxaplenty, Wickers Portal, G Sense, Kandor, Warf, Handz, Wndow, J. Adjodha, Katalyst, Champion Sound B2B 
SOUND BY FUNKTION-ONE & VOID ACOUSTICS
Live mural painting by Apex Collective & more!
________________________________
Infrasound Festival 2022
May 12th, 13th, & 14th at Harmony Park, Geneva, MN
Want to be a Food or Merchandise Vendor at Infrasound?
Want to build / bring an art installation?
Want to perform music?
Email us at [email protected]
______________________________________________________
For more details + more updates please join the Infrasound Family group page.