mnVibe pres. Bless That Mess. A Fundraiser for Ladies of the Lake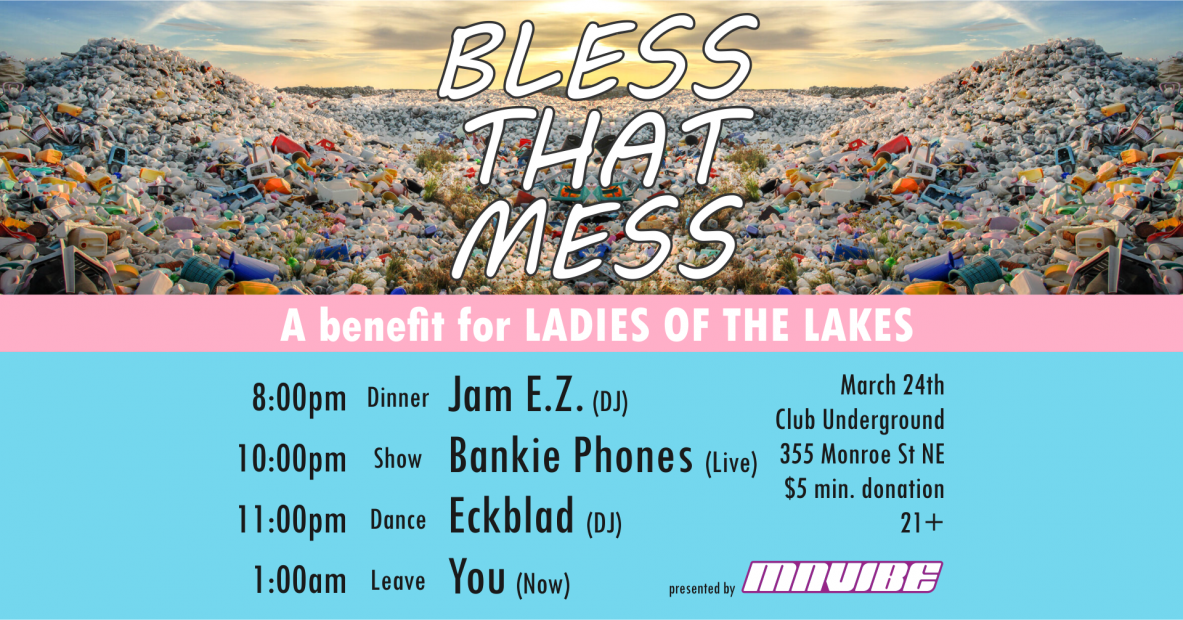 ~the show~
Hello and welcome again to another iteration of mnVibe presents Dave Eckblad presents a birthday-celebration-con-fundraiser a-la Dinner, Show and a Dance. Vis-a-vis Jam EZ, Bankie Phones and Dave Eckblad. Come and enjoy all Springstreet has to offer on their menu. It's actually really good food. I'll be having the meatloaf dinner. You should try their wings if you like wings. Bring some tabletop activities; board games, M:TG, etc. We're going for big living room vibes for the dinner hour.
This event is a 100% proceeds fundraiser for Ladies of the Lake, a fully professed house of The Sisters of Perpetual Indulgence. Taken straight from their website: "If you've stumbled across this page, it's important to know that we're a razzle-dazzle gaggle of drag nuns that strive for inclusion and love in our community. We work with local organizations to raise funds for LGBTQ-oriented causes and make it our own personal mission to spread joy to everyone we meet. To the outsiders and the insiders, the prejudiced and the privileged, we work for a united community that supports everyone with vigor and compassion." Read more about their mission here: https://www.lolsisters.org/ Please consider the door fee to be a "minimum donation." We'd very much appreciate anything you can offer. Thank you to the artists who have donated their time!

~the schedule~
We start EARLY at 8:00. Jamez aka Jam E.Z. will provide music for your dining and cocktailing experience. A proprietor of deep electronica grooves, acid house, funk, rock and soul. Catch them on KRSM 98.9 FM Mondays at 7pm for Same As It Ever Was or Wednesday 7pm for Groovement. 
Dinner CONCLUDES at 10:00 with the promotion of Bankie Phones to the position of center stage. Frankie is gonna give it to both our ears and our eyes. They'll be presenting a sort-of-hyrbrid-kinda-thing that's got video elements extracted from max/msp backed up with some beats he'll sequence off some of them lil light up button boxes. I'd have to describe his musical style as reverse-downtempo cowguy-morning traffic-jam documentary.
AROUND 11:00 I'll take over and hype a bunch of tracks other people produced. I have no idea what I'm going to play. I haven't had time to figure that out yet. I've been busy designing a new sub bass speaker cabinet I intend to mass fabricate for use at this show. Things are going well so far! I'll have them paired with the same open baffle Hi-Fi tops I've used for my last few shows.

~when where how who~
March 24th
Music 8pm to 12:30am
Club Underground
355 Monroe St NE
$5 min. donation
21+