Jesse Whitney, Ritika Ganguly, & IOSIS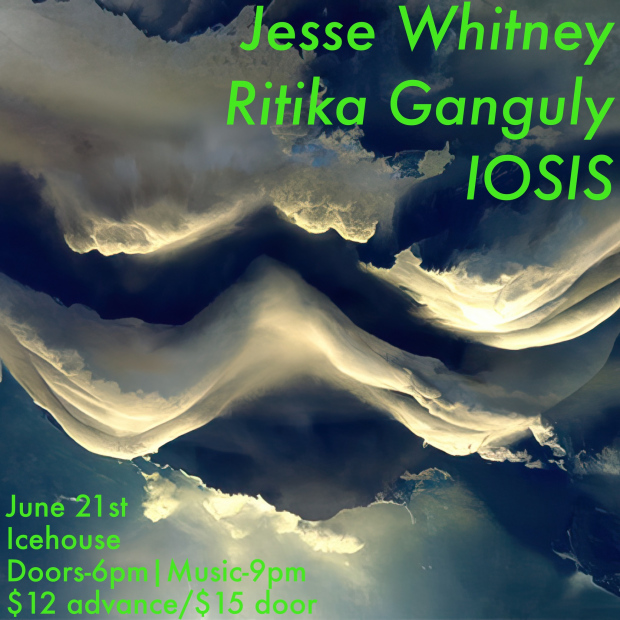 An evening of genre flexing deep listening with the pointillist synthesized space of Jesse Whitney, the minimal interpretations of Indian classical music of Ritika Ganguly, and the sublime drone wall of IOSIS.
https://www.icehousempls.com/events/2022/6/21iosis
Jesse Whitney 
Jesse Whitney's work centers on manipulating voltages to facilitate the creation of expansive sonic spaces that focus the mind of the listener, with the goal of the expansion of human consciousness as a path to addressing the challenges humanity is facing. The primary vehicle of this work is working with synthesizers to explore minimalist aesthetics in sound. He lives and works in Minneapolis.
Ritika Ganguly
https://ritikagangulymusic.com
Ritika Ganguly, Ph.D., is a Minneapolis-based composer and anthropologist born and raised in New Delhi, India. She has trained in genres within Bengali music and contemporary Indian musical theater. She is committed to vocabulary-building of South Asian folk music in the Twin Cities and her work often comments on western stereotypes of South Asian musical genres and practices. When not composing or consulting, she can be found coaching her students in voice culture, ear-training, deep listening, and expressive vocalizing. Her vocal, compositional, and coaching work pushes us to rely less on music notation and theory, and more on audiative practices that deepen our aptitude to hear and express. Ritika has been awarded several grants for her research and musical work in Baul (Bengali Sufi music/poetry.) She was recently commissioned by the Minnesota Opera to compose a mini opera in Bengali/Bangla Xylem. Ritika is a 2021 McKnight Composers
Fellow at the American Composers Forum. She is a loose, long-leaf tea enthusiast
and has an impulse to connect with people over cha (tea). https://ritikagangulymusic.com/
IOSIS
Working primarily with hardware synthesis means and techniques, IOSIS creates gnarled soundscapes, lush atmospherics and fully enveloping visuals in the service of channeling ritualistic sonic experiences. Initially conceived as a fully improvisational entity, IOSIS has morphed into a flexible and malleable platform for expression that is equally capable of operating from a strictly compositional as is from a boldly improvisational approach. The music of IOSIS welcomes elements of drone, noise, and ambient musical forms and textures alongside more traditional compositional structures and considerations. Ultimately, IOSIS exists as a living body for constant experimentation and redefinition of boundaries and perceptions of what is and what isn't possible from a musically performative and emotionally transmutational artistic practice.