Transcend: An Open Air BBQ Event Featuring Northern Barrier and Friends!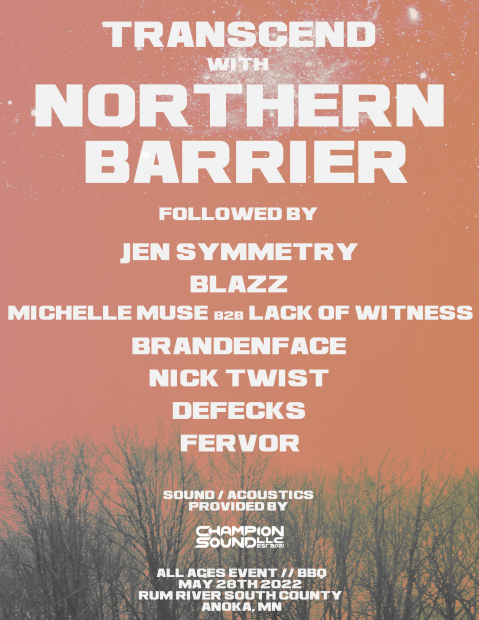 Warm weather is back! We think it's about time to bring you another installment of Transcend Open Air BBQs! This will be an all ages music event, parents and kids are encouraged to come out and dance with us! There are some beautiful walking trails near by, a river to hang out near, and a park for the kids to play in right next to the pavilion.
===FOOD===
There will be two onsite grills and a Pit Barrel Cooker! I will be bringing several racks of ribs to slow cook in my Pit Barrel, feel free to bring your own too! Do be prepared to remove any waste from the area, we don't want to leave a mess.
===DRINK===
Anoka County allows us to have open beer on the property, but absolutely no hard liquor. Feel free to bring your own, but make sure to pick up after yourself. We want to leave the space nicer than we found it.
===NO ILLEGAL SUBSTANCES===
I will be strictly enforcing a no substance dance space. Remember, we are out in the public eye and I would love to continue doing these monthly. In order to keep this going we must all be responsible. There will also be children present during the event and we want to be conscious of that.
=====LINE-UP=====
Northern Barrier
(SMNL)
Drum-n-Bass
Jen Symmetry
(Mechanix/Proper Chicago)
Drum-n-Bass
Blazz
(Mechanix)
Drum-n-Bass
Michelle Muse B2B Lack of Witness
(Drum-n-Bass)
Brandenface
(Chilluminati)
Psytrance
Nick Twist
Drum-n-Bass
Defecks
Liquid Drum-n-Bass
Fervor
(Chilluminati)
Drum-n-Bass/Psytrance
====SOUND====
The Champion Sound gang will be rolling out the Void system for this event! Thanks again!