The Space Ball at RaptureMN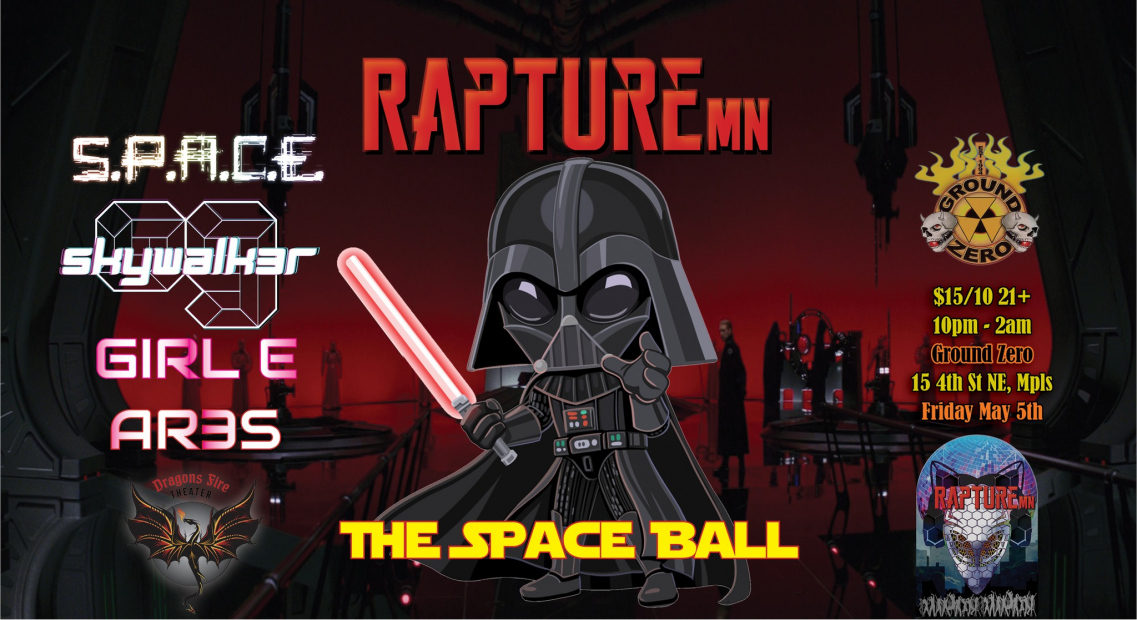 It's the Space Ball at RaptureMN!
You wanted more Baby Yoda, more Klingons, Reavers, Clyons, Vorlons, Asgaurdians, and Goa'uld.
Settle down Dot. Welcome to the Space Ball!
The Space Ball at RaptureMN will highlight several of the best MPLS based DJ producers. The entire show will be amplified by an entourage of entertainers creating a spectacle of stage show including projected visuals, laser lights, LED's, Fire performance, and aerial acrobatics.
FT. S.P.A.C.E.
OG SKYWALK3R
Lisa GirlE
Garrett Hetchler aka AR3S
And more tba
21+ $15/10 cover
$5 off when you bring your LED flow props, if you incorporate LED's into your costume, or if you Cosplay in the style of or as your favorite Space based science fiction character
S.P.A.C.E.
https://soundcloud.com/spacemunkyzero/enbyous
(Some People Already Cried Enough) is a progressive techno artist from Minneapolis, MN, U.S.A. Their music is inspired by their perspective of the world and the people that inhabit it.
Their goal is to unite people through music and shared universal expressions of the human spirit, gentle reminders that we are all One in this life and the next.
One Planet. One Species. One Destiny
S.P.A.C.E. aka Space Munky
https://soundcloud.com/spacemunkyzero
GIRL E
https://soundcloud.com/girle
GIRL E is known for making Funky, Hip House & Jackin House sets sound smooth and sexy by blending in a strong sense of GirlE femininity and House flair. Girl E has shared the decks with house music staples like DJ Collette, DJ Freddy Fresh and Dimitri Max all around Minneapolis nightclubs including the legendary club First Avenue and Honey. Girl E hosted her own weekly radio show, Grove Room and co-hosted Funk Yeah! with Chicago dj XEL on Chicago House FM for years. Staying true to House music but often blending in Deep House, Breaks, Tech House and even Tribal House, Girl E's sets will keep you dancing.
https://soundcloud.com/ogskywalk3r
AR3S
AR3S is about bringing you a variety of music from all across EDM genres in the most exciting ways through high energy and fast paced mixes.
https://soundcloud.com/ar3s_official
Rapture is evolving and you can apply to join the team today.
Rapture MN is a rotating collective of local EDM and performance artists. Our vision is to bring together the best of the local scene to produce the most unique and special dance party in the Twin Cities.
We are currently booking more DJ's, performance artists, dancers, decor artist, local art vendors, technology artists, and anyone else that would help raise the vibrations of our events.
Make sure you join the Enraptured group for more info about our events. DJ's please post your playlist in the EnRaptured Group as well. We want to hear what you're spinning!