Rapture pres: Hard Dance Holidaze feat: Hartshorn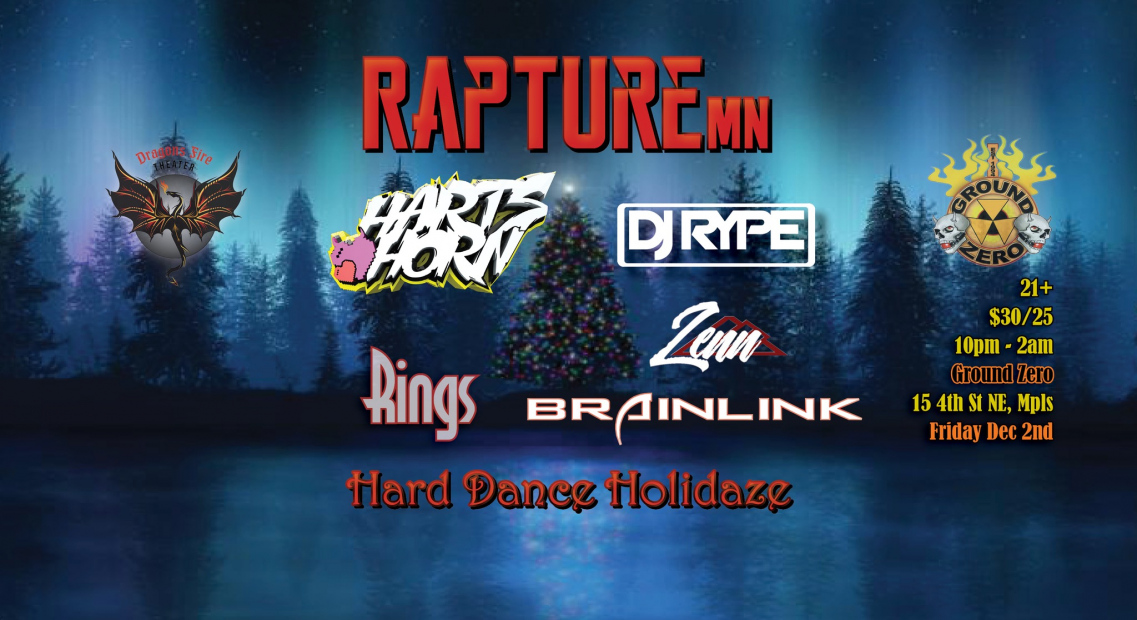 Hard Dance Holidaze at RaptureMN is Dec 2nd
https://www.facebook.com/events/274698711291034/
1-2 Hartshorn - UK Hardcoren (Denver)
12-1 Rype & Zenn - Hardstyle
11-12 Rings - Hard Techno
10-11 Brainlink - Industrial Techno
21+ $30/25 cover
$5 off when you bring your LED flow props, if you incorporate LED's into your outfit, if you dress in costume, or dress up in the holiday spirit. Break out your ugly holiday sweaters, dress up like a Yule Tree, an Angel, the Mistletoe Fairy, some rendition of Santa or Mrs Clause, a Reindeer, an Elf, a Grinch, a Krampus, a character from the Nutcracker, Scrooge, or some other classic holiday tale.
Hard Dance Holidaze at RaptureMN will highlight several of the best MPLS based Hardstyle DJ producers. The entire show will be amplified by an entourage of entertainers creating a spectacle of stage show including projected visuals, laser lights, LED's, Fire performance, and aerial acrobatics.
We will be doing a giveaway contest for free entry to the show.
All you have to do to enter is click "Going" on the event and invite all your freaky friends to the show. Every person you invite is one chance to win. If a person you've invited clicks "Interested", you get two chances. If a person you've invited clicks "Going" the you get five chances to win!
Hartshorn
https://linktr.ee/hartshorn303
A Hartshorn performance is guaranteed to get the dancefloor moving. A combination of stage presence, diversifying musical BPM's, and a classy mixing style you will only hear with the Mile High City front man. 2022 is aiming to take the Hartshorn sound to new heights.
DJ Rype
https://soundcloud.com/djrype808
Hardstyle Dj, Producer, Promoter and owner of Hard Dance Minnesota. Direct affiliate of Hard Dance Nation. AkA Jared the Damager
Check out the lineup from 2021 and follow us on Instagram
@rapture.mn
1-2 Hartshorn
12-1 Rype & Zenn
11-12 Rings
10-11Brainlink
@groundzeronightclub @dragonsfiretheater
Rapture is evolving and you can apply to join the team today.
Rapture MN is a rotating collective of local EDM and performance artists. Our vision is to bring together the best of the local scene to produce the most unique and special dance party in the Twin Cities.
We are currently booking more DJ's, performance artists, dancers, decor artist, local art vendors, technology artists, and anyone else that would help raise the vibrations of our events.
Make sure you join the Enraptured group for more info about our events. DJ's please post your playlist in the EnRaptured Group as well. We want to hear what you're spinning!