Mechanix Halloween ft Mizeyesis, Jen Symmetry, eylxr, Blazz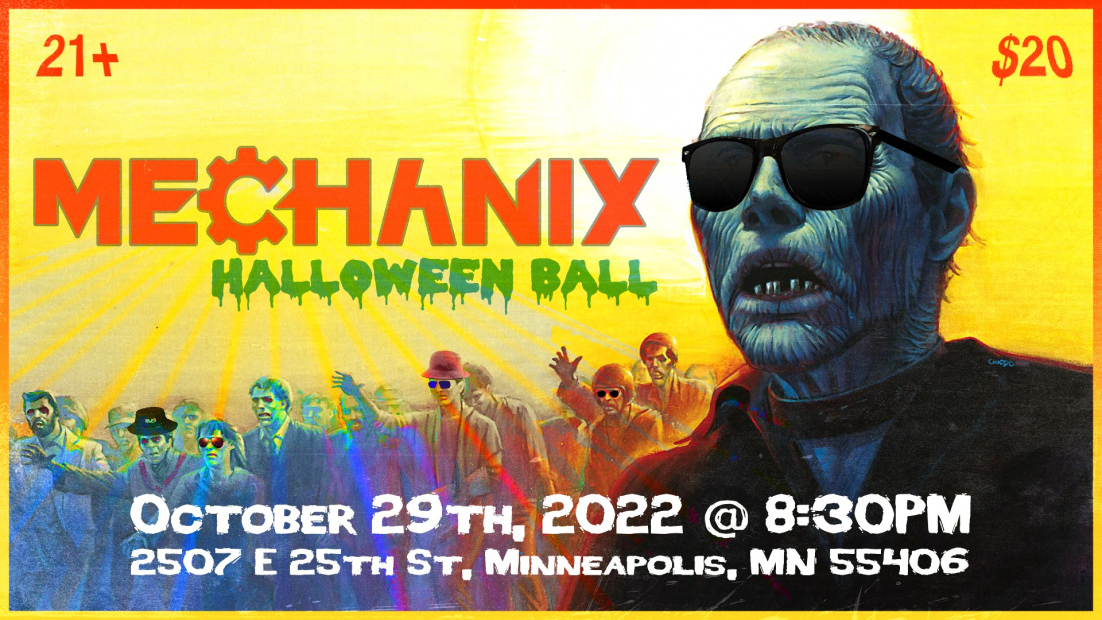 Time to get spooky! Costumes, Jungle and Drum & Bass. $20 at the door, 21+ to enter. Sound by Head Inna Bin.
Mizeyesis
Jen Symmetry
eylxr
Blazz
Mizeyesis
(BPM Artists Management Agency, CG Agency, Omni Music, DNB Girls, Elm Imprint, MIA DNB, New England Junglists)
Mizeyesis is a dj & producer from the Northeastern United States. She's a BPM Artists Management Agency artist, US Manager for DNB Girls, Member of MIA DNB and so much more. Her start began in 2004 in where she started to dj, throw events and co-founded a collective, Threshold Sound based in Connecticut. In 2008 she joined several collectives in NYC and other New England states, and began to travel out of the area more, building a national name for herself.
In 2010, she was approached by Satellite EDM to currate their DNB & Jungle selection on their online store. With several guest mixes under her belt she gained the attention of Jungletrain.net and produced a show, The Aural Report, exposing fans of this music to new artists and new djs which began in 2012. That year she also worked on a project with Wu DJ Coalition on a show called "Culture Clash" exposing hip hop fans to bass music and jungle/dnb for 6 months. Following that, she was also approached by DNB Girls to become their US Manager and assist with the expansion from being a solely Canadian collective. To date, DNB Girls has 20 members, 10 of which are located in the US. Mizeyesis was also approached by MIA DNB to become a member of their collective, which is the largest DNB collective in North America.
2015 saw her first release with the independent UK label, Hexagon Digital in which she collaborated with Skru on the "Sea Jah EP" (HEX002). 2016 she collaborated on a full EP with AwakeFM for Omni Music, "Convergence EP (OmniEP106), and also during that time, began working on a 7 track EP for Faction Digital, Seven Systems which was released in 2017. She's released on YESKA Beatz Unlimited "SoundBwoy Haze"; Salvation on Junglist Resistance - a 31 track international jungle compilation to raise money for charties against violence, hatred and discrimination; participated in JungleWars 2017; a collab with acclaimed artist, Rainforest on "Rise of The Warrior" EP for "Guidance" released in 2018; and most recently, "Call to the Ancestors" off Repertorie's Streetlight Volume 1.
Other projects include "AMEN RA Trifecta" a trio featuring artists, Meszenjah & Elijah Divine; Working with Girls Rock's Boston Chapter and most recently a seminar with MIT (Massachusetts Insitute of Technology) where she discusses her life as a DJ and producer. 2018 she was booked for GeoParadise's "Tribal Gathering" in Panama and returned in 2019 as a Stage Manager to assist with Tribal Gathering's mission of gender equity booking 10 acts from the US and Canada who were featured artists on the Global Stage.
Her whole life she was engulfed in expression from being a former professional dancer who studied with Alvin Ailey, to visual art, to learning & studying music at an early age, she plays a number of styles & genres of electronic dance music such as her Drum & Bass, Jungle, House, Techno, Garage, Bass Music, Rare groove, Dub Reggae and more.
To date she has performed at tons of US based festivals such as, The Winter Music Conference, Beltek, Hydrotechnics
High profile DNB nights such as Respect (LA), Rupture (London), Elements (Boston), Konkrete Jungle (NYC), Direct Drive (NYC), Natural Selection (NYC), Two:Tone (Dallas), MPLS (Minneapolis), and many other prestigious jungle/dnb nights. In 2017 she was a guest on the highly popular Bellyman Show on Origin UK and did a special b2b set with the talented Mrs. Magoo and did an extensive tour in Southern California working with the likes of RAW aka 6Blocc, SPY, Reidspeed, BC Rydah, and many more respected djs and artists. 2020 she was featured in Hospital Records on the Beach Stream, and many other well respected projects.
Mizeyesis has performed/toured/opened for many high profile artist & performers such as LTJ Bukem, Aphrodite, A-Sides, Remarc, SPY, Jumping Jack Frost, John B, Total Science, Breakage, Digital, Loxy, Double O, SB81 (Nolige), MSDOS, RAW aka 6Blocc, Liondub, Tony Touch, Reid Speed, Empress, Planet of the Drums (AK1200, Dara, Dieselboy & Messinian), Freaky Flow, Zed's Dead, Doctor P, Flux Pavillion, Roots of Creation, I Anbassa, The Big Takeover, Biodiesel, Arclite and many more!
One thing is for sure, you will be entertained and enlightened as this selector has a curious knack for lifting spirits with a selection of music from the past, present and, future. As well as an lovely sense of musicality within her productions.
Links:
Web: http://www.mizeyesis.com
Facebook: https://www.facebook.com/mizeyesisDJOfficial
Twitter: https://twitter.com/mizeyesis
Soundcloud: https://soundcloud.com/mizeyesis
Mixcloud: http://www.mixcloud.com/mizeyesis
Youtube: https://www.youtube.com/mizeyesis
Instagram: https://instagram.com/itsmizeyesis
Jen Symmetry has loved drum and bass for close to two decades, playing at clubs, parties, and festivals where she regularly offers direct support for international headliners, and where her high-energy, precise sets have earned her a few headlining spots herself. She's released tracks on Vibe Raiders and Forefront Recordings, and in 2021 gained national recognition by winning the title of 916 Junglist/Dystopia DJ Battle champion. She's showcased her talent in dozens of cities across the US from NYC to LA, and has held several notable residencies over the years. A member of Proper Chicago, Mechanix Minneapolis, SubBass, and Siren Project, she also co-hosts the popular Twitch channel SLPDNB. Regardless of your taste in music, Jen's style and passion will get you moving and keep you on the dancefloor.
http://instagram.com/jensymmetry
http://jensymmetry.bandcamp.com/
http://twitch.tv/slpdnb
Eylxr is a producer and DJ, rooted in Minneapolis MN. Influenced by global & organic sounds, eylxr emits deep basslines & atmospheric chords, fusing the darkness of night with melodic light to cohesively create eerie, empowering, & mystical music in her sound & sets.
Her music shares stories of self-love, personal radicalism, inclusivity, and creating community with underlying intentions of converging people through the power of music and dance.
www.soundcloud.com/eylxr
www.facebook.com/eylxr
www.instagram.com/eylxr_
Raised by an ancient alien race Blazz is the last human from Earth 12a which is part of an extinct universe in dimension 8