Kajunga presents Midnight Music Club (Live), DJ Nola & Private Guy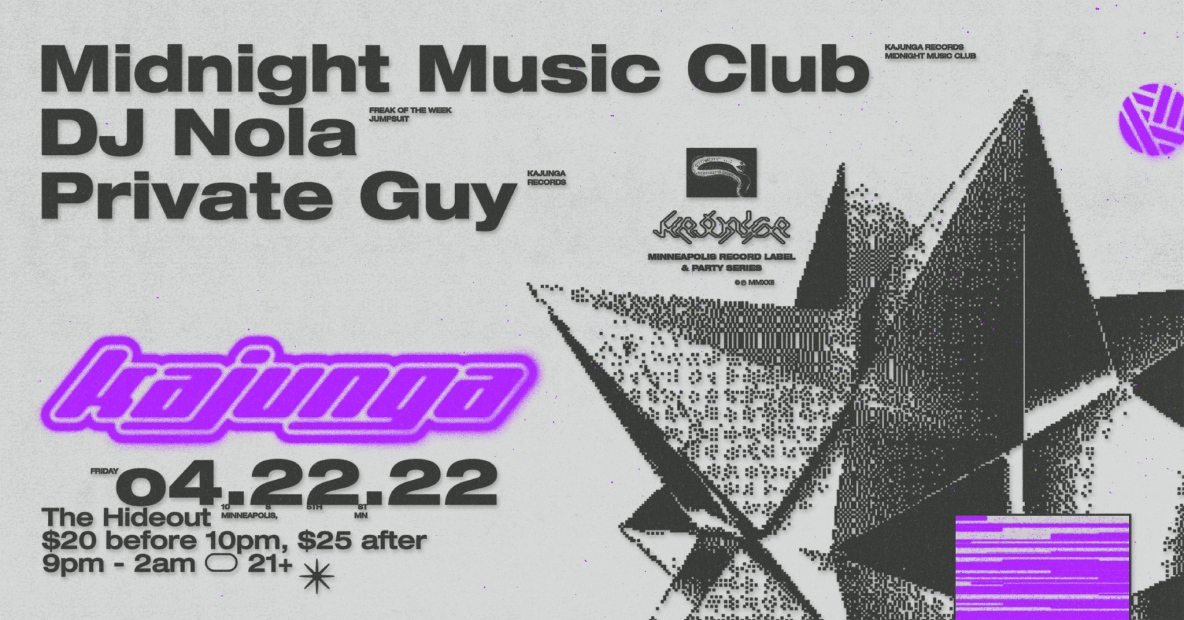 After a successful mission in hyperspace, the turbo system is primed and ready for continued sonic sorcery. Join us back at the Hideout o4.22 as we enter the next phase of our voyage.
M I D N I G H T . M U S I C . C L U B ʟɪᴠᴇ
Kajunga Records | MMC
Midnight Music Club has been collecting records for over 40 years, sharing them passionately for nearly 30 and studying music production for 20. This live artist's timeless yet distinctly old school sound is reminiscent of early Chicago and Detroit pioneers, with a blend of deep house and techno that is uniquely his own.
D J . N O L A
Freak of the Week | Jumpsuit
Known for her funky eclectic sound, the Freak of the Week herself is no stranger to the Kajunga ethos. She'll be on closing duties, so expect something a little different, faster and super-charged.
P R I V A T E . G U Y
Kajunga Records
Private Guy aka Alex Guy is a Minneapolis-based producer + DJ who originally hails from the frozen tundra of North Dakota. After succumbing to the vibrant Minneapolis music scene, Private Guy has since helped co-found the Minneapolis label Kajunga Records. His distinct Midwest sound is defined by syncopated 808 rhythms and effects-driven melodies, heavily influenced by warehouse parties in Detroit and Minneapolis. Guy's musical stylings are further influenced by his work as a visual artist and ceramicist, each medium driving inspiration into the other.
✦
No harassment, racism, homophobia, transphobia or any forms of bigotry will be tolerated. Don't be a creep and don't touch someone without their consent. We want to make sure your experience is as enjoyable as possible. If you feel unsafe, please find a member of Kajunga or the person at the entry. We will handle the situation accordingly.
No phones or cameras on the dance floor.
✦
Covid Policy* The city of Minneapolis does not require masks for indoor gatherings. We encourage everyone to get tested before and after the event, and to educate yourselves on the risks of COVID-19. We also encourage you NOT to attend if you are feeling sick/showing symptoms of any transmissible illness. Visit minneapolis.org for COVID-19 resources. *Subject to change.
✦
The Hideout at The Pourhouse
10 S 5th St, Minneapolis, MN 55402
$20 before 10pm, $25 after
No Presale Tickets
9pm - 2am | 21+
kajungarecords.com