Dance Dance Resolution at RaptureMN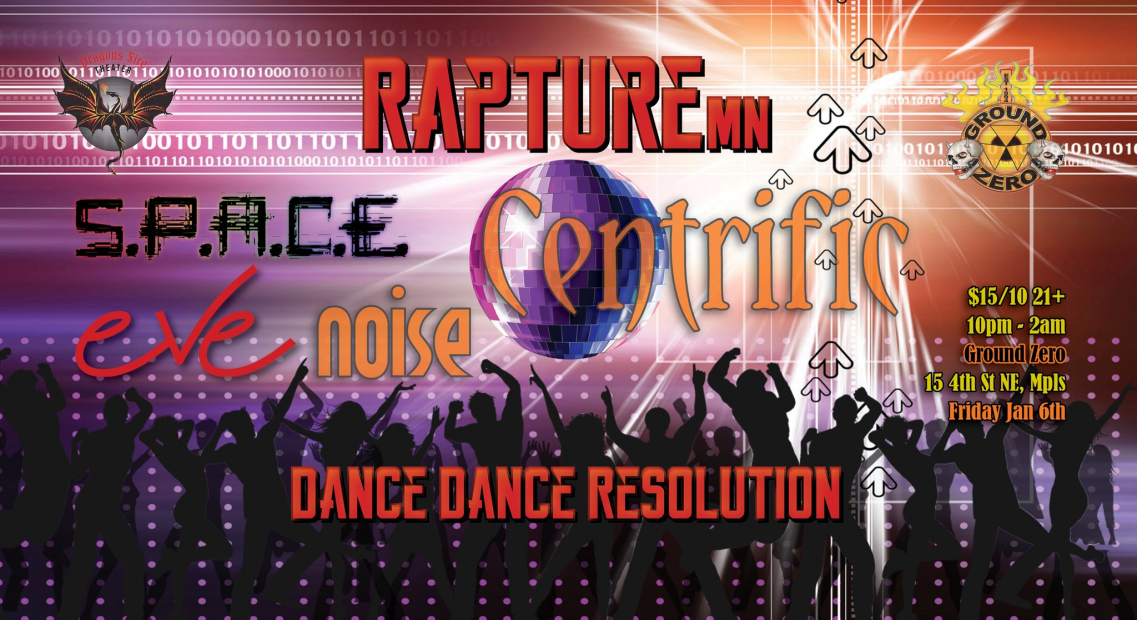 Dance Dance Resolution at RaptureMN is the New Years Party for the Industry!
https://www.facebook.com/events/3468794950043310/
It doesn't matter if you worked all night, partied like a rock star, did it at a club, or stayed at home this New Years Eve.
Make your 2023 resolution to get out and dance more.
Featuring:
Centrific
S.P.A.C.E. aka Space Munky
Dj Eve
noise
and more tba
Dance Dance Resolution at RaptureMN will highlight several of the best MPLS based DJ producers. The entire show will be amplified by an entourage of entertainers creating a spectacle of stage show including projected visuals, laser lights, LED's, Fire performance, and aerial acrobatics.
21+ $15/10 cover
$5 off when you bring your LED flow props, if you incorporate LED's into your outfit, if you dress up in costume and get decked out for the New Year wearing your sparkly sequin costumes, your party suit, your new years dress, your funky disco outfit, or something that tells us that your 2023 New Years Resolution is to get out and dance more.
Steven Centrific
https://soundcloud.com/centrific
F a bio. Steven plays techno all over MPLS at events you know and love like the Communion, Black Mass, Overlook, the Great Beyond, Even Further, and other Intellephunk events.
S.P.A.C.E.
https://soundcloud.com/spacemunkyzero/enbyous
(Some People Already Cried Enough) is a progressive techno artist from Minneapolis, MN, U.S.A. Their music is inspired by their perspective of the world and the people that inhabit it.
Their goal is to unite people through music and shared universal expressions of the human spirit, gentle reminders that we are all One in this life and the next.
One Planet. One Species. One Destiny
S.P.A.C.E. aka Space Munky
https://soundcloud.com/spacemunkyzero
Dj Eve
https://soundcloud.com/atomandeve
Originally hailing from Austin, TX, DJ Eve has been a staple of the Minneapolis electronic music scene for 20+ years as one of the Twin Cities first female EDM DJs. In her time as a DJ she has played at all the local clubs and was a resident at the beloved Lounge. She has played all over the world in clubs like Sound Bar (Chicago), Coco Bongo (Cancun), and a wild rave opening for Deadmau5 on the Salt Flats of Utah. There is never a dull moment in her sets with a mixture of house tracks. A fun fact about her is that she is a huge gamer and loves to play MMORPGs.
https://www.instagram.com/_djeve_/
DJ noise
Skaht Hansen
noise has been a fixture of the Minneapolis music scene since the 1990's, when he was a founder of the darkwave and industrial production companies Nachtmusik, Inc. and Silent Productions while simultaneously playing in the goth punk and post-gothic bands Glass and Silent Tristero.
Since those days, he has shared the bill with such acts as Skinny Puppy, VNV Nation, Aesthetic Perfection, Front Line Assembly, and countless others.
Bringing layered, pulsing, and hypnotic beats, noise finds a cross between the familiar and the sublime.
Having played venues from mere tens to several thousands in size, noise is currently resident at Ground Zero in Minneapolis, as well as dj for the Minnesota Rollergirls, but also likes to travel to play outside of his home town whenever possible.
One can usually find noise floating around the club on his bottom-lit roller skates.
https://groundzeromn.com/disc-jockeys/noise/
Rapture is evolving and you can apply to join the team today.
Rapture MN is a rotating collective of local EDM and performance artists. Our vision is to bring together the best of the local scene to produce the most unique and special dance party in the Twin Cities.
We are currently booking more DJ's, performance artists, dancers, decor artist, local art vendors, technology artists, and anyone else that would help raise the vibrations of our events.
Make sure you join the Enraptured group for more info about our events. DJ's please post your playlist in the EnRaptured Group as well. We want to hear what you're spinning!