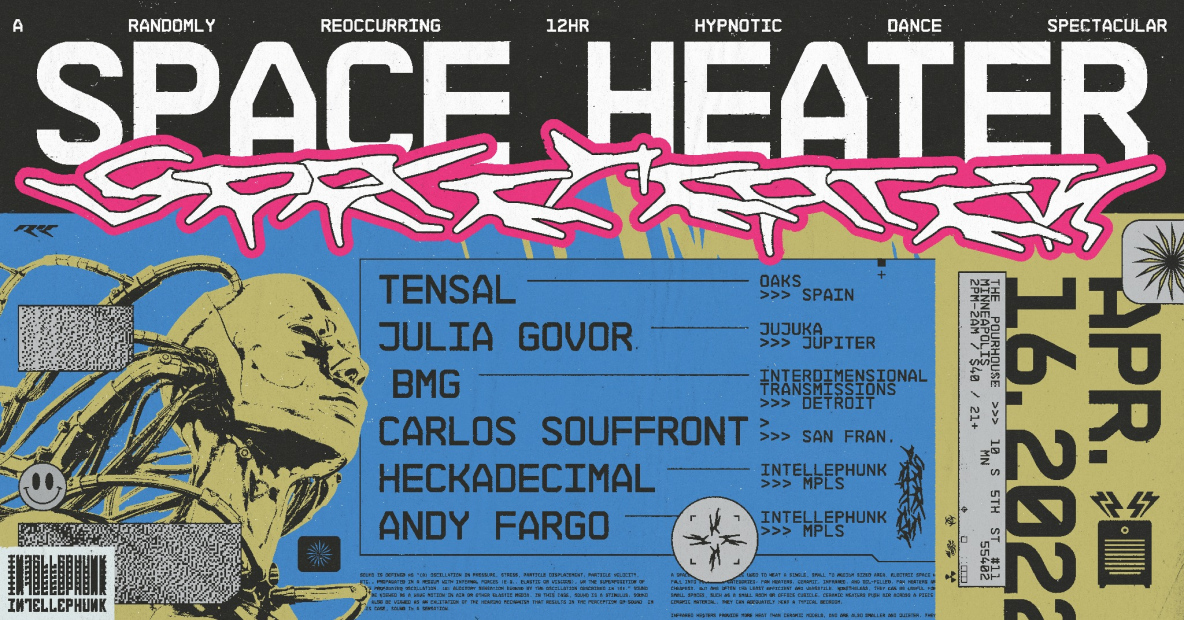 Saturday April 16th 2022
Intellephunk
presents:
Space Heater 003
LIne Up-
Tensal [OAKS][Spain]
Julia Govor [JUJUKA][Jupiter]
BMG [Interdimensional Transmissions][Detroit]
Carlos Souffront [San Francisco]
Heckadecimal [Intellephunk][Minneapolis]
Andy Fargo [Intellephunk][Minneapolis]
2pm-2am
$40
21+
The Pourhouse
10 s 5th st
Downtown Minneapolis
02:00pm- Andy Fargo
04:30pm- Heckadecimal
06:00pm- Carlos Souffront
08:00pm- BMG
10:00pm- Julia Govor
12:00am- Tensal
Event Guidelines:
ZERO TOLERANCE event for groping, harassment, racism, trans or queerphobia, or other form of bigotry is grounds for immediate removal from the event.
KEEP YOUR HANDS TO YOURSELF.
Covid Policy: We have always believed Covid-19 was a legitimate public health risk. We also believe the time has come to ask our attendees to make the decision which is right for their personal safety, the safety of their family and immediate community when choosing to attend our event.
Given the recent decline in Covid 19 cases we have instituted new rules based on current State of Minnesota guidelines. The current rules in place do not require any proof of vaccination or masking at indoor events. We have decided to follow this guidance and allow our guests the opportunity to choose what feels right for themselves.
WE ENCOURAGE OUR GUESTS TO:
Test before/after the event.
Wear masks (optional).
Use the sanitizer stations located throughout the venue.
Educate themselves on the risk factors of COVID-19 transmissibility.
Not attend if you are immunocompromised, feeling sick/showing symptoms of any transmissible illness, or are at all hesitant about the safety of your health.
We ask that you all take these suggestions seriously and respect people's personal choices, boundaries, and opinions when it comes to this sensitive public health issue. We want you to do what is best for you, your family, and your closest circle/community.
If you'd like to learn more about ways to be safe during or after a large event:
CDC: CONSIDERATIONS FOR EVENT GATHERING GUIDELINES
If you need resources for testing in Minneapolis/St. Paul area:
MINNESOTA DEPT. OF HEALTH - COVID-19 TESTING INFORMATION
GUIDELINES ARE SUBJECT TO CHANGE AS NECESSARY.
IF CASE NUMBERS RISE WE WILL PUT THE MASK AND VAXX REQUIREMENTS BACK IN PLACE THE WEEK OF THE SHOW.
Can't afford the show?
We now have a small guest list for a few people having a financial hardship.
First come, first serve with priority to community members who identify Bipoc, Trans, Queer.
Email: [email protected]