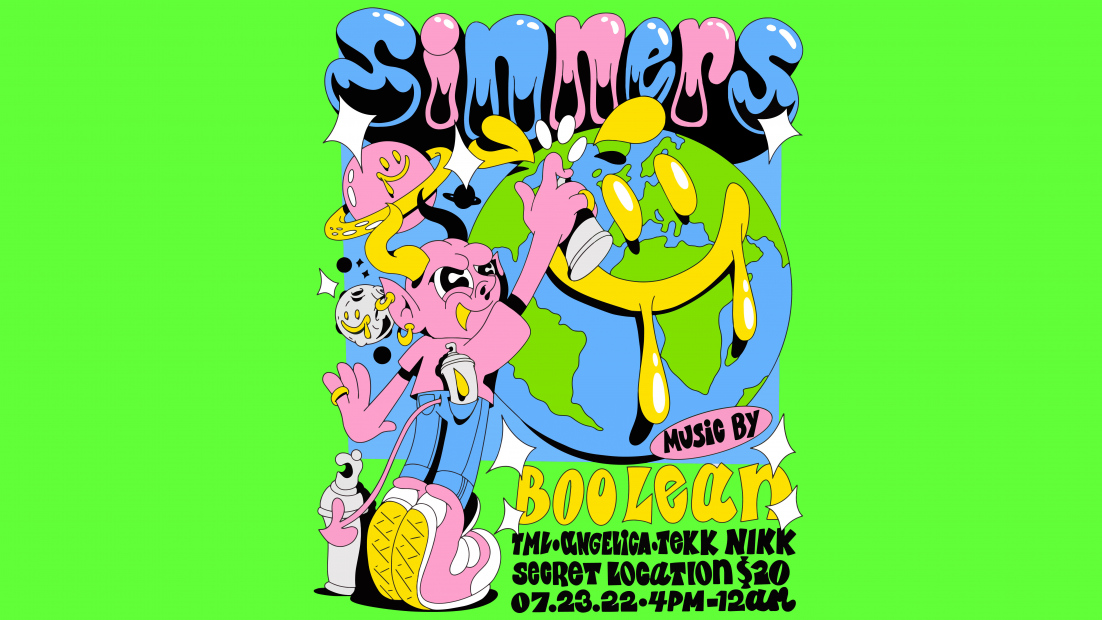 SINNERS [07.08.22]
* BOO LEAN
Boo Lean (Lauren Goshinski) is a DJ and audio-visual curator who has pioneered & programmed festivals (VIA & New Forms), collectives (gFx), and spaces (Hot Mass, Cobra) that carve vital pathways forward in electronic music.
Over the past decade Boo Lean (aka Lauren Goshinski) has created, curated, and DJ'd platforms for boundary-pushing artists operating at the edges of sound, technology, and performance, who have become the visionary voices of our time.
She pioneered a new generation of audio-visual festivals in the US, co-founding the VIA Festival in 2010 in Pittsburgh, PA. She has utilized every opportunity to make viable space for womxn & non-binary promoters and artists across all her projects, in addition to co-founding the gFx collective, and booking / DJing the iconic Hot Mass and new hotspot, Cobra.
While the bulk of her efforts have been concentrated in the midwest, she operates internationally as a guest director/curator of festivals like New Forms (Vancouver), and is a board member of ICAS (International Cities of Advanced Sound). The latter organization includes 30 festivals around the world from Unsound to Nyege Nyege, Mutek, Today's Art, and CTM Berlin, who work together to support cultural mobility for artists outside the mainstream & fight against the corporatization of creative movements.
As a curator she has facilitated a range of unique collaborations from Oneohtrix Point Never/Nate Boyce to House of Kenzo/Team Rolfes to Pussykrew/Kelela, and supported breakout talent both in their early days and now: from Yaeji, Juliana Huxtable, Aurora Halal, and Lotic to Giant Swan, Laurel Halo, NAAFI, Mike Q, Cakes da Killa, Junglepussy, Empress Of, Light Asylum, Nene H, Lafawndah, Jimmy Edgar, Jessy Lanza, Abdu Ali, Purple Tape Pedigree… the list is 1,000+ deep and keeps growing. And like any good rave mom, she's thoughtfully linked these voices with their ancestors from ESG, Tommy Wright III, Betty Davis, MC Lyte and Rakim to Richard Devine, Moodymann, Underground Resistance, Teklife DJs and more … to help remind us where we come from and encourage us to create new worlds together.
Creating experiences that ride the line between humor and sincerity, tension and release, strangeness and familiarity into something altogether new, her DJ sets are no different. It's not unusual to find her closing out a rave with a selector's choice of golden-era techno, tripped out jungle, nostalgic teenage nu-metal bops (they exist), or a glimmering just-unearthed gem. Inducing what can only be described as a collective laugh-cry marathon, a Boo Lean set reminds us that the rhythms and melodies we hear tucked away in these basements and clubs help us find ourselves in the darkest hours of the night.
—————————————————————
* TML
* ANGELICA
* TEKK NIKK
—————————————————————
18+
4PM-12AM
$20
Limited capacity
www.acme-collective.com
SECRET LOCATION
[Turbosound]