Musique Électronique feat. Kenny Dope, Freddy K, Chez Damier, Danny Daze, DJ Minx, Overland, & more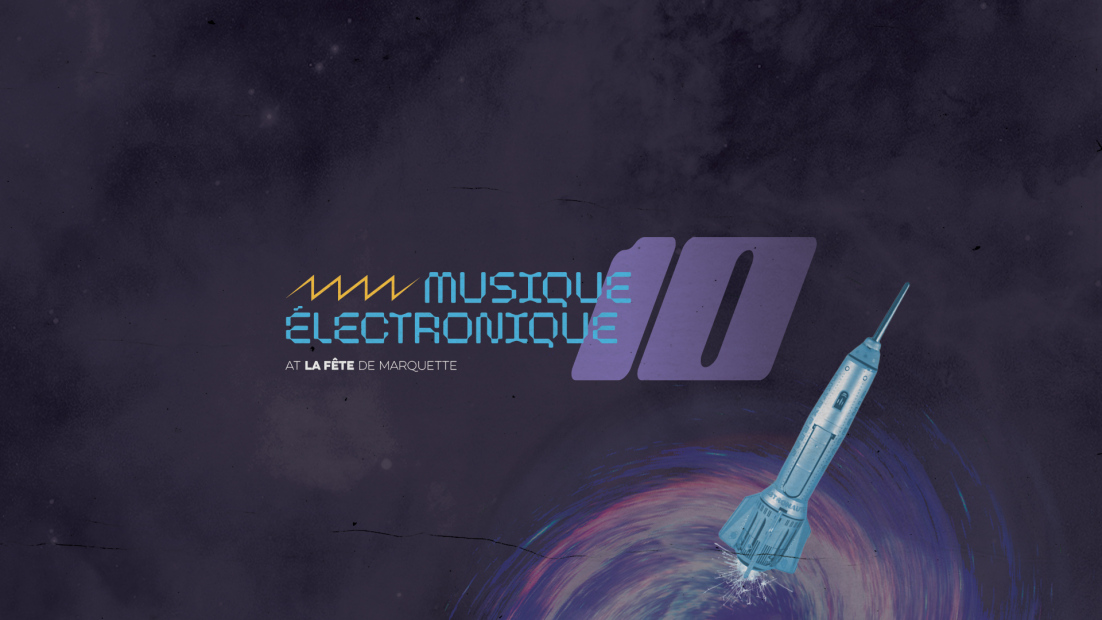 After a two year hiatus we're truly excited to announce the 10th anniversary of Musique Électronique! A true community event celebrating underground house and techno alongside the renowned 'La Fête de Marquette' festival in the heart of Madison, WI.
Join us for two days in McPike Park for a free family friendly event that includes music, art, dancing, vendors, food, drink, and so much more! We also have official afterparties both Friday and Saturday night starting immediately after the festival ends, just a couple short blocks away at the High Noon Saloon. Grab a limited 2-day pass for just $35 today, these will go quick! At these after parties you'll get the chance to dance to extended sets by our headliners…
Friday night our headliner is one of the greatest house music artists of all time, Kenny Dope. His contributions to house music are unsurpassed as a solo artist and with his seminal group 'Masters at Work' with colleague Louie Vega. He has four Grammy nominations over his illustrious 20 year career which includes official remixes of Daft Punk, Michael Jackson, & Madonna. He also produced one of the most recognizable house music tracks of all time, The Bomb, under his 'The Bucketheads' moniker.
Saturday night our headliner is Berlin based techno pioneer, Freddy K. A master of playing extended DJ closing sets at the world's most renowned techno club, Berghain. This is a rare opportunity to see Freddy K in the United States, as he's only toured stateside one other time before this. We're absolutely thrilled to bring one of the world's best techno DJs to close our ten year anniversary event in monumentous style.
This year's event also includes a special performance by legendary house music artist Chez Damier, as well performances from internationally touring artists Danny Daze, DJ Minx, Overland, & Boo Lean. With regional and local support from Cloudy Kid, Flower Food, Kitty Spit, and Ginjahvitiz. Full artist biographies and links with additional info are located below the schedule.
La Fete De Marquette is produced by the Wil-Mar Neighborhood Center. All funds raised from Musique Électronique at La Fete de Marquette benefit the vital services, resources, and community opportunities offered by the Wil-Mar Neighborhood Center.
A huge thank you to our local sponsors at the Willy Street Co-op & MadCat Pet Supplies.
Limited 2-day after party pass:
https://www.ticketmaster.com/event/07005C70B98838EB
_____
Schedule:
Friday July 15th
Musique Électronique
Set times @ McPike Park
4:30pm- Flower Food
5:30pm - Boo Lean
7:15pm - Danny Daze
9:15pm - Kenny Dope
Musique After Dark
High Noon Saloon
Kenny Dope
w/ local support Ginjahvitiz
10:30pm, 21+
2-Day Pass:
https://www.ticketmaster.com/event/07005C70B98838EB
Friday only:
https://www.ticketmaster.com/event/07005C70B5083399
_____
Saturday July 16th
Musique Électronique
Set times @ McPike Park
2pm - Cloudy Kid
3:15pm - Overland
5:15pm - DJ Minx
7:15pm - Chez Damier
9:15pm - Freddy k
Musique After Dark
High Noon Saloon
Freddy K
w/ local support Kitty Spit
10:30pm, 21+
2-Day Pass:
https://www.ticketmaster.com/event/07005C70B98838EB
Saturday only:
https://www.ticketmaster.com/event/07005C70B69B363D
_____
ARTIST BIOGRAPHIES
Kenny Dope
Kenny 'DOPE' Gonzalez is one of the most prolific artists in modern music. The four time Grammy nominated musical genius has been entertaining and astounding the masses with his fusion of house, hip-hop, Latin, jazz, funk & soul, reggae, alternative pop and broken beats for over 20 years. Today, he shows no signs of stopping.
Kenny's affiliation with music started at the age of 12, absorbing beats that were booming from 80's block parties in his hometown, Brooklyn. In the years that followed, Kenny discovered his enduring love for 'diggin' for records, to date boasting a collection of over 50,000. Whilst experimenting in production with the likes of fellow Brooklyn DJ Todd Terry, Kenny founded the still-thriving independent label, Dopewax Records.
In 1990, Kenny began a creative partnership that would define his future career and the house music landscape as we know it. Along with Louie Vega, the Masters At Work were formed and together they went on to become one of house music's most influential and successful duos. Remixing hundreds of artists from Michael Jackson to Madonna to Daft Punk, MAW remains a pervasive sound in clubs all around the world.
Kenny's work under alternative aliases, Nuyorican Soul and The Bucketheads, has been just as widely celebrated. 'The Nervous Track', released under Nuyorican Soul, propelled Kenny Dope into America's musical hall of fame, while under The Bucketheads, Kenny produced one of his most requested tracks, 'The Bomb'. With its extended sample from Chicago's 'Street Player', 'The Bomb' has an assured place in the annals of dance music history.
Whilst production and touring account for most of his time, the last 2 decades have seen Kenny Dope release thousands of tracks, remix hundreds of singles and tour the globe. In recent memory, he remixed international R&B star Alicia Keys' track, 'In Common', as well as performing B2B several times with the likes of Loco Dice, while racking up another billboard top 10 with Crystal Waters' 'I Am House' remix.
Whether it's sitting behind the control board in front of baying crowds or searching for the next great re-release classic, this beat master will continue to shine as a master of his work.
https://www.facebook.com/Kennydopemusic
https://kaydeerecords.com/
https://soundcloud.com/kenny-dope
_____
Freddy K
Freddy K: techno activist. Since the '90s Alessio Armeni has been tireless campaigning from the dancefloor, defending vinyl, championing young talents and reinforcing the scene from the shadows. You will know him best for his marathon DJ sets and deviant selections. You might recognise him as the head of KEY Vinyl, or for the backstage role he played at M_Rec, the label he helped run with best friend Max_M.
Lory D and Leo Anibaldi's The Sound of Rome movement; Luca Cucchetti's renowned Mad radio shows; warehouses, soundsystems and rave all informed Freddy K's earliest obsession with techno. He started DJing at Sunday after hour events, having danced all through the night himself. In 1993, aged 21, he launched his now famous Virus radio show, which ran daily from 8PM to midnight, and from midnight to 6AM every Saturday. Parties, a booking agency and record shop soon followed: the Virus movement had arrived. A year later Freddy K signed to the legendary ACV, who released his first EP, Control. Rage Of Age, his debut album came in 1995; a dark and noisy record influenced by his two passions, Chicago acid and rock. It was widely lauded throughout the country and remains a testament to the old Sound of Rome today.
After Virus peaked and having toured all over the world with ACV, Freddy K stopped DJing and retreated to the backroom. He spent the early millennial years working with Sandro Nasonte at Rome's flagship record store, Remix. Together they set up the influential Elettronica Romana label, which released some of Donato Dozzy and Giorgio Gigli's first EPs. In 2005 Freddy K launched K1971, a label management enterprise that continues to support fledgling initiatives today from its base in Berlin. He moved to the German capital in 2009, setting up KEY Vinyl as a "techno label for DJs" two years later. Artists like PVS and Héctor Oaks have helped forge the label's (and Freddy K's own) traditionalist view on techno.
Moving to Berlin reignited Freddy K's teenage infatuation with rave. He soon fell in with Homopatik, the former monthly gay event at ://about blank. He became notorious for his epic 10, 14 and 16 hour-long sessions there, playing always strictly vinyl and in a dynamic, party conscious fashion. Freddy K sets are characteristically mercurial and 100% tailored for the dance. He plays a "360°style of techno," which can include Soft Cell, WestBam or Bronski Beat—when the timing is just right. He played his first Berghain set in 2013; two years later he was closing the place, keeping the energy levels soaring well into Monday. The last 20 minutes, he says, are the most important. So be sure to stick around till the very end.
https://www.facebook.com/FreddyK.berlin/
https://soundcloud.com/freddy_k_berlin
_____
Chez Damier
The word legend is thrown around too easily but Chez Damier really is a legend. Having witnessed firsthand many of the most important moments in the short history of techno and house music the Chicago DJ is always talking about the past. He opened the The Music Institute in Detroit in the 80s, which became the centre for that famous techno scene, before steering KMS Studios on it's course and then launching the Prescription label with Ron Trent. Each of those three roles make him a portal to an important past but really Damier is all about the future.
His releases with Trent such as 'Morning Factory', 'Sometime I Feel Like' and 'Be My' are some of the purest house records off all time. Chez N Trent releases are now seen as documents of the genre's early years so it's easy to forget how far ahead of their them they were. With deep house enjoying a revival, many are only now only catching up with Chez's releases from the 90s - his 1992 release 'Can You Feel It' has got as many spins in the last two years than it did in the previous twenty as a new generation learn about Chez.
After a seven year break from the industry, he reemerged in 2004 and re-established himself as a leader. Since 2009 his work with German label Mojumba and his own imprint Balance Alliance have showcased his own and others forward-thinking approach to music. His motto is simple: "we need to make new classics."
https://www.redbullmusicacademy.com/.../chez-damier...
https://www.facebook.com/chez.damier/
_____
Danny Daze
Steeped in Miami's B-boy culture, it was classic electro & Miami bass that conceived Danny Daze's love for the experimental Dutch electro & Detroit Techno scenes of the 90's. Labels like Schematic in Miami, Interdimensional Transmissions from Detroit & Viewlexx out of The Hague set the foundation for Daze.
Daniel Gomez adopted his Daze moniker early on at his mother's suggestion. Practicing on a set-up she bought him, Daze was spinning at weddings by age 14, funneling his earnings into vinyl to play raves on the side. That eventually led to producing his first tracks in 2004 on a cracked version of Fruity Loops and later that year, he jumpstarted a electro / techno white label called Omniamm.
Daze's risk-taking & punk approach is at the core of everything he does and it's a big part of the ethos of his current label, Omnidisc. "We're not searching for chart topping hits. We're more interested in curating a catalog of music you'll remember when you walk out the door. We seek out tracks that are as raw as possible & welcome imperfections. We love the charm of an unpolished record", says Daze. It's also this freeform & experimental approach together with an element of surprise that sets him apart from the pack as both a DJ & Producer.
As a DJ, he prefers to express his versatility across long sets. He is known to cut & weave from Electro to Techno into Italo Disco, into a record by Yazoo deliberately intended to provoke a reaction. "I once played a Paula Abdul record at Berghain… basically, it's like it or leave it," says Daze. As a producer, his output ranges from releases on Kompakt's Speicher series, to remixes on Phantasy, Comeme, Monkeytown & more… but he also reaches far beyond techno & has created original runway soundtracks for award winning American streetwear designer John Elliott & the Australian brand Song for the Mute. "I'm obsessed with the detailed manipulation of audio. It's at the core of how I make music & I constantly feel the need to involve myself with projects that challenge & allow me to think out of the box… whether it's creating a single recognizable noise for the new MacBook, or an advert for a fashion campaign blending original music with sound design," says Daze.
Danny Daze's radical approach to preserving music's integrity while breaking its boundaries may seem volatile, but it's not random. "I've always gone against the grain & it's important for everything I do to feel authentic. There isn't much difference between Daniel Gomez and Danny Daze."
https://www.facebook.com/DannyDaze
https://soundcloud.com/dannydaze
_____
DJ Minx
DJ Minx was inspired to spin at The Music Institute in 1989, where some of Detroit's leading dance music DJs helped to hone her skills.
For two years she engineered and hosted "Deep Space Radio," an electronic music show on Detroit's WGPR radio station. She also voluntarily hosted a weekly radio program at the University of Canada on CJAM 91.5 FM called "Steamy Windows," and later became a resident of world-renowned Club Motor in Hamtramck. In 2000 she was a featured performer at the first Detroit Electronic Music Festival, and has since become a regular fixture at Movement.
In December 1996 Minx founded Women on Wax, a collective of female DJs from the Metro Detroit area. From then on, she worked with promoters and DJs across the country to solidify the career of several top female DJs and singers.
In 2001, Minx established her own record label called Women On Wax Recordings, which has become a platform for her own productions (including the 2003 classic, "A Walk In The Park") an outlet for local talent. Minx expanded her musical majesty by creating a sub-imprint of the label called W.O.W. B.A.M. (Women On Wax Bangin' Ass Music), and continues to collaborate with, produce on, and remix for a number of labels.
Detroit's "First Lady of Wax" is going strong after nearly three decades of DJing and continues to play in cities across the U.S. and around the world. She was recently named one of the "20 Women Who Shaped the History of Dance Music" by Mixmag and one of the "Best house music DJs of all time" by TimeOut New York. In 2018, she was presented with the Spirit of Detroit Award for "exceptional achievement, outstanding leadership, and dedication to improving the quality of life." In 2020 she launched Behind The Grüv, an online store that sells high-quality, reasonably priced casual wear, fir for lounging, outdoor events, and working out.
One can only imagine what other paths Minx will explore in the years to come.
https://www.facebook.com/djminxdetroit
https://womenonwax.com
_____
Overland
Acidic specialist based in Vancouver, Canada. Records on naive, Helpful Music and Sweat Equity NYC.
A primary figure in Canadian dance music, Overland is a force to be reckoned with. Her lengthy DJ experience mean her sets are always a surprise, brimming with a wealth of knowledge in acid, b-side minimal and Detroit techno. Her venture into production has been fruitful, with releases on labels such as Naive, run by Portuguese powerhouse Violet, as well as Helpful Music, curated by How To Dress Well. Though small in stature, her sound is powerful, using classic rave-era synths to create cutting-edge dance floor hits. These feats are just the beginning of what's to come for this bright young Canadian.
https://www.facebook.com/overlandddd
https://soundcloud.com/jodieoverland
_____
Boo Lean
"This is a person who's done so much for the american & global grassroots dance movement... it doesn't stop in this curatorial generosity, because Boo Lean is also the sickest of DJs, naturally vibing between sonic schools to a mesmerizing result." -Naive
Boo Lean (Lauren Goshinski) is a DJ and audio-visual curator who has pioneered & programmed festivals (VIA & New Forms), collectives (gFx), and spaces (Hot Mass, Cobra) that carve vital pathways forward in electronic music. Over the past decade Boo Lean (aka Lauren Goshinski) has created, curated, and DJ'd platforms for boundary-pushing artists operating at the edges of sound, technology, and performance, who have become the visionary voices of our time. She pioneered a new generation of audio-visual festivals in the US, co-founding the VIA Festival in 2010 in Pittsburgh, PA. She has utilized every opportunity to make viable space for womxn & non-binary promoters and artists across all her projects, in addition to co-founding the gFx collective, and booking / DJing the iconic Hot Mass and new hotspot, Cobra.
While the bulk of her efforts have been concentrated in the midwest, she operates internationally as a guest director/curator of festivals like New Forms (Vancouver), and is a board member of ICAS (International Cities of Advanced Sound). The latter organization includes 30 festivals around the world from Unsound to Nyege Nyege, Mutek, Today's Art, and CTM Berlin, who work together to support cultural mobility for artists outside the mainstream & fight against the corporatization of creative movements.
As a curator she has facilitated a range of unique collaborations from Oneohtrix Point Never/Nate Boyce to House of Kenzo/Team Rolfes to Pussykrew/Kelela, and supported breakout talent both in their early days and now: from Yaeji, Juliana Huxtable, Aurora Halal, and Lotic to Giant Swan, Laurel Halo, NAAFI, Mike Q, Cakes da Killa, Junglepussy, Empress Of, Light Asylum, Nene H, Lafawndah, Jimmy Edgar, Jessy Lanza, Abdu Ali, Purple Tape Pedigree… the list is 1,000+ deep and keeps growing. And like any good rave mom, she's thoughtfully linked these voices with their ancestors from ESG, Tommy Wright III, Betty Davis, MC Lyte and Rakim to Richard Devine, Moodymann, Underground Resistance, Teklife DJs and more … to help remind us where we come from and encourage us to create new worlds together.
Creating experiences that ride the line between humor and sincerity, tension and release, strangeness and familiarity into something altogether new, her DJ sets are no different. It's not unusual to find her closing out a rave with a selector's choice of golden-era techno, tripped out jungle, nostalgic teenage nu-metal bops (they exist), or a glimmering just-unearthed gem. Inducing what can only be described as a collective laugh-cry marathon, a Boo Lean set reminds us that the rhythms and melodies we hear tucked away in these basements and clubs help us find ourselves in the darkest hours of the night.