Mechanix: Seminal Sound Takeover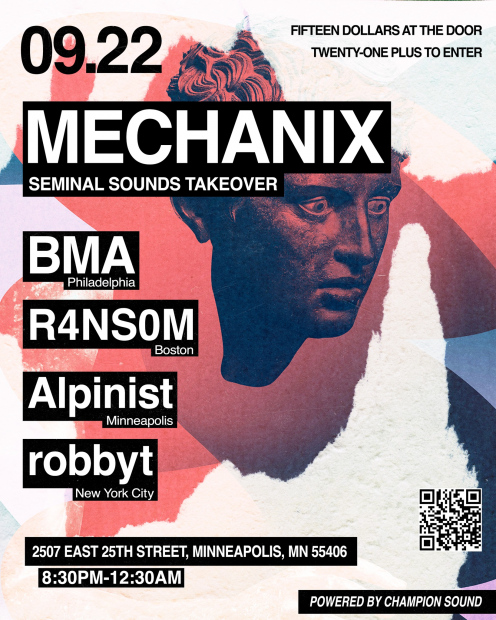 BMA - Philadelphia
This living legend has been DJing, promoting, supporting, performing and creating drum and bass for over 26 years and has graced the decks in over 30 states, alongside some of the biggest names in the game, at some of the most legendary parties. In 1998, BMA became one of the first to broadcast and host a weekly drum & bass show in the states. He continues to broadcast his vision through a variety of online platforms to this day for tens of thousands of listeners around the globe. Having delved out dozens of releases through some of the most true to the form labels, his unique style is one to be studied.
R4NS0M - Boston
Originally hailing from the storied Washington DC drum & bass scene, Boston's R4NS0M has been at the forefront of the American drum & bass
movement since its early days. Over the course of his career, He's performed at legendary events like Buzz, Ultraworld, Resonate, Eklektic, Platinum, Respect, Elements, and Cadence, and crafted mixes for Toronto's iconic Prophecy FM and Winslow's Bad Snares Anonymous. As a producer, he's released music on such labels as Moving Shadow, Ohm
Resistance, Soul Deep, Detached Audio, 1 More Thing, WiddFam, and 4 Corners Music, and worked with a number of artists, including Sinthetix, Corrupt Souls, UFO!, Ben Rolo, Fake, Dvalue and Metcalf. With decades of work under his belt, and a decidedly individual take on the drum-n-bass sound, R4NS0M continues to cement one of the more unique legacies in the history of the genre as a creator and pioneer.
Alpinist - Minneapolis
Alpinist (Erik Dale) is raising a storm in the northern forests. Old school respect meets modern sounds with rave rated, dark, heavy tracks from deep in the forest that will dive into your nightmares while lifting the floor. Alpinist has been flexing sound systems with an emphasis on jungle influenced, dark, rolling tunes with sounds equally fit for warehouses and the festival circuit. Impressing audiences with their technical mixing abilities on stage and production chops off stage. Get ready because Alpinist is just beginning their ascent.
A skilled producer who's sound can takes influence from abroad, while hailing from the midwest USA. Alongside their production chops landing them an upcoming record release with Seminal Sounds, their impeccable track selection and well refined mixing abilities will throw any dance floor into a frenzy. Alpinist has performed with the likes of Chase & Status, DJ Craze, Dieselboy, Downlink, Joe Nice, Bukkha, Fixate, and more.
robbyt - NYC
robbyt will be playing a special early 'deconstructed DnB' live set. Come early to hear the wildest mix of anything you can imagine. 140, 170, and everything in-between.