Culminate Presents: Commodo + Hebbe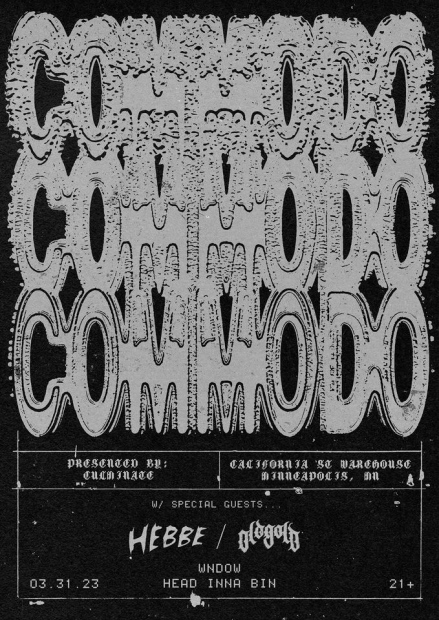 Commodo (Sheffield, UK / Mysterious Trax, Deep Medi Musik)
An artist with minimal online presence, Commodo is one of an increasingly rare few who make waves through the strength of their music alone. He builds bass-focused beats with soul and substance that never perpetuate a formula, distancing himself from contemporaries with ingenious sampling and sound design influenced by his long-time affinity with the vibrancy of hiphop.
Hebbe (Rotterdam, Netherlands / Basskruit, Dungeon Beats, Duploc)
The highly anticipated Rotterdam-based Hebbe has fully emerged from being a much-promising up-and-comer and became a well- established leading artist within the 140 realm. While his distinct flow, obscure weighty sound and crunchy basslines have conquered and inspired the entire Dutch dubstep scene, Hebbe is strongly coming through worldwide right now.
Oldgold (Austin, TX / Silent Motion Records)
w/ support from
WNDOW (Minneapolis, MN / Bhump Records)
Head Inna Bin Sound System
California St. Warehouse, Minneapolis, MN (Address TBA)
March 31st, 2023
8PM-1AM
21+
BYOB